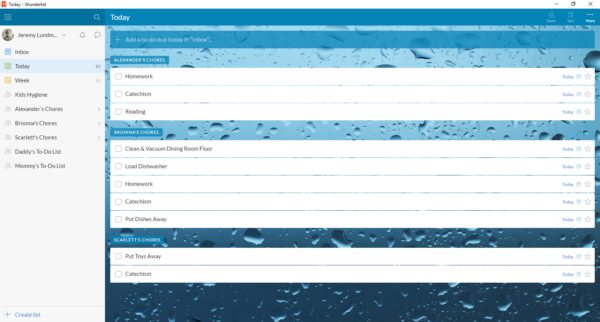 A Month (So Far) Without Social Media
About a month ago, I cut my ties with social media, personal websites, and just about anything related to the web (Read Here). Not only did I write about my proverbial "Vanishing Act" here on Theology Mix, but I also shared my current journey with the guys over at the Tech Reformation podcast (Listen Here).
Over the last month, I've been tinkering around with ways to leverage technology, and apps, in my home for the glory of God. I'll be honest, this has not happened as quickly as I would have liked. In fact, I wish I had been better prepared for my interview with the Tech Reformation guys. Instead, it was that conversation which spurred me to make good on applying some of my ideas into my home.
Over the next few posts, I'm going to be sharing some free tech options that will help you organize your home and help hold you accountable to Glorifying God in the home.
Wunderlist: Can an App Get Kids to do Chores?
One of the first things our home needed was some very basic structure. If you listened regularly to After the Sermon you know that our house is never clean. In fact, in Episode 33, where I interviewed Calvinist Supermommy, I boasted that I had just cleaned my daughter's room with a snow shovel. I have done that on three occasions…no joke.
So one of the first things I wanted to find was something that could help organize all of our regular chores. Keep in mind that in our home our television is exclusively Hulu/Netflix. It's basically a desktop PC (with Ubuntu 16.04 for those who care) connected to a 40″ television. My kids are 3, 6, and 8. Two of them already know how to navigate to Netflix or Hulu to find their favorite shows. I just needed to find software that met three simple criteria:
It had to work in Google Chrome and Phone/Tablet Apps (Android Specifically)
It had to be simple enough for my kids to check off their own chores.
It had to be efficient with Syncing across multiple platforms.
Wunderlist has all of those features. However, that is not why I'm writing about Wunderlist. I'm writing about it because after implementing this on Saturday, my kids have fallen in love with it, and my house is strangely clean this morning.
I set everything up on Saturday and took the day on Sunday to show my kids how to use the Google Chrome interface on our TV (basically they check a box when they are done). Something happened yesterday that was a bit odd. I didn't find myself repeatedly telling my kids, "Do this, do that, clean that up, pick this up," etc. Instead, they were happily coming to me saying, "Daddy! I checked off a chore!" One of the features that was really exciting for them was being able to check things off on the PC, and watching it disappear from my App as well.
For anyone with kids, we all know "Training Day" is one thing, and ongoing habits are another. Now I realize that today is only Day Two, but today was such a transformation that it's worth writing a blog post about.
I regularly wake up to cereal all over my living room floor, toys everywhere, and sometimes even blankets when the kids decide they want to have a tea party or a camp out in our living room.
Today was very different.
I woke up and, out of habit, I checked my tablet. Before I left social media I would have been checking for comments on Facebook or scrolling through my Twitter feed to see what I had missed. This morning, however, I jumped onto my Wunderlist to see if any chores had been done. To my surprise, five of their chores were already done. As a skeptical father I called my son up and said, "Alexander, have you cleaned off the sofa, vacuumed the floor, and done a load of laundry?" He happily replied, "Yep!"
Please understand something, I NEVER would expect my kids to do chores before school. I'm happy if they are dressed and make it to the bus on time. So for the first time in years (that's not an exaggerated time-frame) I woke up to a clean house. I fully expect the novelty of Wunderlist to wear off. We will probably have to start incentivizing this process but, for now, it's working like a champ!
Wunderlist's Other Practical Uses I Hope to Employ
I haven't fully explored the potential of Wunderlist. The chores were just Phase One. I have also connected my wife to the App and we plan to use it as a sort of "Honey-Do" list. We already use a syncing Google calendar but sometimes you glance at your calendar and miss things, or don't realize they involve you specifically.
With Wunderlist, we can add an item directly to each other's "list" and the other person knows immediately that something needs to be done. Wunderlist also has a "comment feature" that will allow conversations on shared lists. If either of us needs more details, or simply can't do the task, we can leave a comment and notify each other of that.
How Can This Glorify God?
As we approach the new year, everyone is getting ready to set new year's resolutions. One of my goals with disconnecting from the web was to spend more time with my family. One of my major goals is to start catechizing my children through Great Commission Publication's "First Catechism." All of my kids have "Catechism" on their to-do list. I have it on mine as well. With Wunderlist, we are all holding each other accountable every day.
As it relates to social media, I am no longer checking my tablet for updates on news stories, political controversies, or engaging in the most recent theological debate. Instead, I'm working on building unity and accountability in my home for the glory of God. As much as I've used social media over the years, implementing it my home has never produced excited kids and a clean home. Personally, I'll take the former over the latter.
Photo via Flickr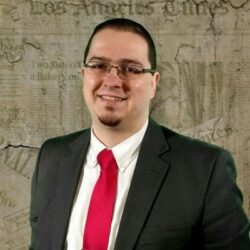 Latest posts by Jeremy Lundmark
(see all)