The Snyders love God and look for every opportunity to communicate the hope of the Gospel. Church planters and missionaries, they enjoy meeting and talking to people all over the world, from all walks of life, and always enjoy a good laugh! Strong believers in the power of prayer, their family Scripture verse is Ephesians 3:20-21:
Now to him who is able to do immeasurably more than all we ask or imagine, according to his power that is at work within us, to him be glory in the church and in Christ Jesus throughout all generations, for ever and ever! Amen.
Listen in and find out more about them below…
John I. Snyder is an international pastor, author, and conference speaker. His book Your 100 Day Prayer:The Transforming Power of Actively Waiting on God (Harper Collins/Thomas Nelson) has helped readers all over the world, taking them on a 100-day journey in prayer over a specific issue or circumstance in their lives. John received his Master of Theology and Master of Divinity degrees from Princeton Theological Seminary in Princeton, New Jersey, and he received his Doctor of Theology degree magna cum laude in New Testament Studies from the University of Basel, Switzerland. Currently, John is Pastor of Starnberg Fellowship, an international church in the Munich area of Germany.
Shirin Snyder, an army brat, was born and raised in India. She received her Honours Degree in Political Science, majoring in International Relations and Political Theory, with minors in Philosophy, English Literature, and British History from Jesus and Mary College, University of Delhi, New Delhi, India. She holds a diploma in French from Alliance Française, New Delhi, and in German from Neue Sprach- und Handelsschule NSH Basel, Switzerland. She helped plant Yellow Brick Road, a benefit store that donates all profits to community needs (to date, $5 million to over 400+ charities) in Carmel, California.
Shirin has worked with the airlines, as an interpreter for international conferences, events planner, as a model, and trained to teach modeling and personality development. She met her husband when she worked as the church (his) secretary and has since been involved in all aspects of church ministry and church planting. A reluctant bass player, she is bribed with chocolates into playing with the worship team at church every so often. Shirin is General Editor and Co-Founder of the new theology and faith blog, Theology Mix.
Sarah and Stephanie Snyder grew up in California, New York, and Switzerland—a family of church planters with parents John and Shirin. They have been travelling ever since. Stephanie Snyder finished high school at 14, just before moving with her family to Europe for missions. She earned her Freelance Journalism Honours Diploma and Honours Diploma in Subediting and Design from the London School of Journalism. She has a passion for music, nutrition and health studies, and homemade pies.
Sarah Snyder finished high school at age 14, then attended the King's College in New York City. When the family moved to Switzerland, Sarah enrolled in the London School of Journalism and earned her Journalism and Newswriting and Subediting and Design Honours Diplomas.
Sarah (guitar, vocals, piano) and Stephanie (drums, vocals, percussion) formed rock band Deer Park Avenue and have produced three records with renowned bassist Matt Bissonette, who is currently on tour with Elton John. They recently won the Hard Rock Cafe Battle of the Bands in Washington, D.C., and are both voting members of the National Academy of Recording Arts and Sciences (GRAMMYs).
Sarah and Stephanie also created Swimming to Shore, a worship band they have toured with in California. They have been involved with church worship leadership from the ages of 9 and 12. They are also the founders of Flying Ace Media, their web, PR, and social media marketing business. They speak French and German. Sarah and Stephanie are co-founders of theology and culture webzine TheologyMix.com, where Sarah is the webmaster and a contributor and Stephanie is an editor.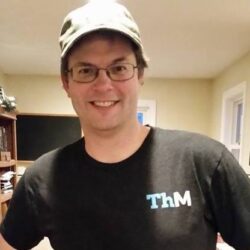 Latest posts by Scott McCausey
(see all)