Perhaps you are intrigued by the mystery of angels, or maybe you enjoy the figurines that adorn the mantle, not only at Christmas time, but year-round. It could be that you enjoy a theological glimpse into the amazing characteristics of these heavenly beings. In having studied these creatures as they appear to humans in the Bible, I notice a pattern. They are not sent to invoke fear, nor do they show up to put on a great sci-fi show; they are actually messengers from God who do his work both in heaven and on earth. Nearly every time an angel appears to a man or woman in the Bible, the scene is met with a peaceful prelude consisting of two words: "Fear not."
We obviously know where this message originates, for it was in Isaiah 41:10 that the Lord told the prophet, "Fear not, for I am with you; be not dismayed, for I am your God; I will strengthen you, I will help you, I will uphold you with my righteous right hand." If the God who orchestrates all of time and eternity doesn't want his creation to fear, then he must give us the provision to place our worries and fears in his capable, loving hands.
While Joseph, Mary's husband, was pondering how he would deal with a major blow to his reputation due to the fact that Mary was with child and he had nothing to do with it, the angel of the Lord met him with these words of comfort: "Joseph, son of David, do not fear to take Mary as your wife, for that which is conceived in her is from the Holy Spirit" (Matthew 1:20). This is similar to what the angel Gabriel told Mary when she received this news that we would likely assume was from an edition of the National Enquirer: "Do not be afraid (KJV=Fear not), Mary, for you have found favor with God" (Luke 1:30).
As the birth of Christ came to fruition and humanity experienced its involvement in God's amazing display of glory, the first recipients of the good news of the birth of the Baby-King were found shaking in their boots (or perhaps their "sandals" would be more apropos) as they tended to their sheep on the countryside near Bethlehem. They were struck with amazement and fright, and yet they were immediately met with those same words of comfort: "And the angel said to them, "Fear not, for behold, I bring you good news of great joy that will be for all the people." The angel then went on to cite the source of the good news and the reason for this news that would dispel all their fear, "For unto you is born this day in the city of David a Savior, who is Christ the Lord."
In the opening of the book of Revelation, John encountered the Alpha and Omega and we get to witness an amazing description of what he saw. Again, we see how the Source of peace and the One who dispels fear responded to John's reaction which was as a dead man falling at his feet: "When I saw him, I fell at his feet as though dead. But he laid his right hand on me, saying, 'Fear not, I am the first and the last, and the living one. I died, and behold I am alive forevermore, and I have the keys of Death and Hades.'"
These few examples reinforce the truth that our God does not want us to be a slave to fear, as Paul wrote these words to Timothy in his final letter: "For God has not given us a spirit of fear, but of power and of love and of a sound mind" (2 Timothy 1:7). Whatever you may be facing is not trivial to the Lord, neither is it insignificant, but it is a very small thing for him to handle. The very God who placed the stars in orbit and planted the trees on the earth that he created is certainly capable of dealing with our biggest struggles and heavy burdens in life. And we can be assured every time that his answer to us will be those two simple words that pack a profound message of his ability to do anything he pleases: "Fear not."
What place do you find yourself in right now? Is your work environment proving not to be conducive to being outspoken about your faith? Are you dealing with a teenage child who is on the verge of making some really poor choices? It may even be that you have lost all sense of purpose in your own life. Whatever the case may be, just remember the words of the angels, and ultimately the words of the One who created the angels: "Fear not." Don't be afraid, because the One who casts out every ounce of fear will never leave your side. Place your most severe trial in his hands and rest assured that if he took care of Job's plight, he will take care of you too. You are his beloved child and he will never abandon you—no, not even when you are overcome by fear. Fear not!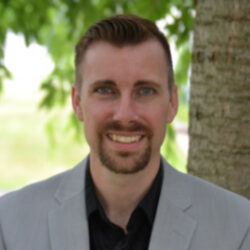 Latest posts by John Mallonee
(see all)