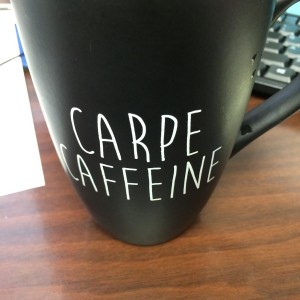 Beasting you in the ancient languages since always. A little weird, a lot nerdy, and seeking to serve my Savior. Not seeking to be a pastor.
1. Why did you start a Twitter account?
A. I realized that there were no "seminary girl" type accounts out in the anon-sphere. I wanted to start something that other women in my field of study could relate to and laugh along with. And besides, who doesn't enjoy some good old fashioned snark? 🙂
2. Who is your favourite theologian, past and/or present?
A. It's a solid tie between A.W. Tozer and Charles Spurgeon.
3. Is it easier to be who you really are as an Anon?
B. In some ways, definitely. I find people are much more receptive to my flavor of humor on my anon account as opposed to my personal account. I feel freer to crack jokes about my classmates and life as a seminarian in general as there is less of a chance for people to take the jokes personally. In other ways, I have had to stop myself from tweeting things that would make my personal account easier to identify. That can be hard because sometimes it's really great material, but I want to keep my anon and personal accounts distinguished.
4. What is something that people would be surprised to know about you?
A. Seminary was in no way part of my life plan until I was a junior in college.
5. What book are you reading? OR: Besides the Bible, what book has influenced your Christian walk the most?
A. Trust God by Jerry Bridges has had a huge influence in my Christian walk. I read it during a particularly tumultuous summer and it's stuck with me ever since.
6. What's your favourite movie or TV show?
A. Gilmore Girls, hands down.
7. What is your pet peeve in church or with Christians?
A. This may be a bit surprising, but a lot of what I've seen with women's ministry drives me batty. A lot of women with good intentions have worked to build up huge women's ministries, but I find them sorely lacking. It seems to me it's a lot of "feel good, Jesus loves me and I'm a beautiful strong person" kind of stuff. I am all for finding my confidence in Christ's love for me, but there's so much more than that. A lot of books written by women for women just lack the theological depth and soundness that's truly needed in women's ministry. I have found a few books and authors (Elyse Fitzpatrick and Nancy Leigh DeMoss to name a couple) that are very well written and are very theologically sound. But it's a bummer to me that there aren't more female authors and speakers like the two I mentioned. And I promise this isn't something I rant about and do nothing to fix! This is one of the reasons I want to pursue my PhD – I would love to write books and articles and the like. But if I could say anything to my fellow church ladies it would be to tread carefully with the ministries/speakers/authors/etc. that talk all about God's love and side-step other aspects of Who He is (especially the hard-to-swallow parts of Him like his holiness and justice). This all goes for Christian novels too. I won't start on those.
8. Why is it important to study theology?
A. As a Christian, it's immensely important to take as much chance as we can to learn more about our God. We would be remiss if we didn't study the theological writings of men (and women!) throughout the ages. Studying theology helps one even better sift through Scripture and glean more knowledge about our God. If we love someone, we want to know more about them. Studying theology – in any capacity – is part of loving and knowing God. God has used many writers and commentators to help bring about better understanding of Scripture. And if someone wants to go into full time ministry, it's of even more importance. Those in full time ministry are even more accountable than those who are not. We must take every chance we can get to achieve a better understanding of Scripture.
9. After a stressful day, what's your favourite way of relaxing?
A. Sweatpants, tea, and my latest Kindle book.
10. What's your favorite Bible verse(s)?
A. Isaiah 43:1-2: But now, thus says the Lord, your Creator, O Jacob, And He who formed you, O Israel, "Do not fear, for I have redeemed you; I have called you by name; you are Mine! "When you pass through the waters, I will be with you; And through the rivers, they will not overflow you. When you walk through the fire, you will not be scorched, Nor will the flame burn you.
11. Do you like chocolate? If yes, what's your favourite kind?
A. Of course! I just recently discovered dark chocolate with mint. YUM. Also, this question reminded me that I have a bar of dark chocolate with coffee. I'll be right back…
Latest posts by Theology Mix
(see all)