Terror in Paris, France
I work nights.
Last night, I worked from 7:00pm-7:00am EST. I went to bed at 10:00am this morning. Unlike most in the U.S., I "awoke" to news about terror attacks in Paris, France. It was late in the evening in France as bombs began to go off. Numerous attacks yet to be confirmed began to play out. The most prominent attack was perpetrated by three men, now dead, at a concert taking place in the Bataclan theater, Paris. Explosions rocked the city as suicide bombers took their own lives. A total of five explosions have been specifically reported, with possible reports of others.
As the horror played out over a three hour period, a standoff took place at the Bataclan. Currently, 118 people reportedly have been killed in that venue alone. A total of 150 dead as a result of all the coordinated attacks has also been reported. At the Bataclan, three shooters reportedly threw grenades into the crowd as they fired off rounds from pump action shotguns. One report from inside the venue called on police to raid the Bataclan immediately as the terrorists proceeded to kill people one by one.
At present, France is under a state of emergency with the borders closed. US President Barack Obama issued a press release affirming our alliance with France. French President Francois Hollande called the attacks "unprecedented" and called for the military to confront the terrorists head on.
How I Felt About The News
Initially, I was just thumbing through Twitter and Facebook responding to items I had missed while I was sleeping. As I thumbed through Twitter, the hashtag #PrayforParis kept popping up. I decided to look it up. I quickly retreated to the television where I flipped on Fox News and began to watch Shep Smith's coverage of the developing events.
As I watched, my emotions swirled. Some of those emotions were good; some were not so good. As the story unfolded my emotions, like Shrek's onion, peeled away to reveal more emotions. I want to share, moment by moment, how I felt as I learned of the attacks. Then I want to address those feelings from a Christian perspective. How we feel, affects how we act. If we can address our initial feelings, and lay them at the feet of Christ, we can train ourselves to react properly, Christ-like, in the fact of immeasurable tragedy.
Apathy
The first 30 minutes of seeing the hashtag #prayforparis just annoyed me. I had no clue what was happening in Paris, and I didn't really care. It wasn't until both Twitter and Facebook began flooding me with similar messages that I finally began to think I should start taking this seriously.
I hope that every professing Christian reading this has moved beyond apathy at this point. People died tonight. People made in the Imago Dei had their lives brutally stripped from them. Mothers and fathers lost their children tonight. Children lost their mothers and fathers tonight. Brothers and sisters lost their siblings in the most brutal and tragic way imaginable. If you're a Christian adult, you should not be apathetic at moments like these.
As I was watching the Fox News reporting of the events, my kids were fighting over a pen. I was, honestly, distracted by the news coverage when my son finally came over to me whining at the top of his lungs, "She took my pen, Brionna took my pen." I looked him square in the face and said, "People are being killed. Mommies and daddies are being shot to death right now. It's not pretend, it's real." My son is seven. He was apathetic because he doesn't know any better. Fellow Christian, you know better. Apathy is not the correct response.
Anger & Hatred
My blood began to boil inside of me as I explained what was happening to my son. He went from being mad about a pen, to realizing that people were dying. I was slightly touched by the sadness of loss of life, but it quickly turned to anger and hatred. "Who Is Responsible?" I thought. "We know it's ISIS." At that moment, I slightly checked myself and thought, "Don't jump to conclusions." Still, I couldn't resist tweeting out,
#Islam demonstrating for the world that it is untenable.

— Jeremy Lundmark (@JeremyLundmark) November 13, 2015
When I tweeted that out I was angry with Islam, and even angrier with their non-response. As these three men ran through the Bataclan they were heard shouting in French, "This is for Syria." Still, it is somewhat unfair for me, in that moment, to categorize an entire religion based on the actions of these three men. Christianity is not fairly defined by the crusades. Even though evidence already has surfaced that ISIS was behind this, and was reportedly celebrating the attacks, the part does not define the whole.
That will bother a lot of Christians who, at this moment, can't get past their hatred and anger. I understand. The emotions of hatred, and anger, are good and godly emotions right now.
Let me say that again, both hatred and anger are GODLY emotions to feel right now. (cf Psalm 26:4,5).
We should despise the wicked when they do evil. Listen carefully fellow Christian, we must hate the evil and the evildoer. Our hatred should not extend beyond those to people we think are "like" the evildoer. Not all Muslims attacked France today.
It will be very popular among Christian nationalists in coming days to call for war and for the isolation and separation of all Muslims. Do not join forces with them. Be wise in your application of justice. Condemn the evildoer and rightly call for justice against them. Don't, however, fall prey to racial and religious discrimination or, worse, violence.
As my heart was searching for the appropriate response to the appropriate audience I narrowed my focus and my audience with this tweet.
#Isis Jesus Christ is king.

— Jeremy Lundmark (@JeremyLundmark) November 14, 2015
Measured Confidence in A Sovereign King
You'll notice from that tweet that I moved from "Islam" to "ISIS." About the time I tweeted that out, Fox News had a passing report that stated Islamic leaders were condemning the actions at the Bataclan. You'll also notice that I transferred my just hatred and anger over to Jesus Christ. I was able to rest in the knowledge that, while ISIS had apparently won the day, they will one day bow the knee to King Jesus.
In the case of the three shooters at the Bataclan, they are already bowing the knee. They have already met Jesus Christ in the wake of their atrocious acts of terror. They have come face to face with the Holy One! Not the mere prophet they imagined him to be. No! Tonight they got to meet the God-Man, Jesus Christ. In my anger and hatred I could wish all kinds of evil things upon their families and friends. However, I truly am satisfied knowing that, tonight, they had to stand before Jesus Christ after perpetrating these acts. If you don't have a robust understanding of Christ as Judge, you won't find satisfaction here. Maybe this will help…
"Now I saw heaven opened, and behold, a white horse. And He who sat on him was called Faithful and True, and in righteousness He judges and makes war. His eyes were like a flame of fire, and on His head were many crowns. He had a name written that no one knew except Himself. He was clothed with a robe dipped in blood, and His name is called The Word of God. And the armies in heaven, clothed in fine linen, white and clean, followed Him on white horses. Now out of His mouth goes a sharp sword, that with it He should strike the nations. And He Himself will rule them with a rod of iron. He Himself treads the winepress of the fierceness and wrath of Almighty God." -Revelation 19:11-15
Should I Be Afraid?
In all honesty, one emotion that never entered my heart was fear. I'm not afraid of ISIS. I'm not afraid of dying. I'm not afraid of fighting. However, as I was watching the Fox News Report, Shep Smith said something to the affect of, "We're all in fear tonight, and how could we not be?" I immediatly tweeted out,
I'm not scared @FoxNews@ShepNewsTeam Let courage rise with danger and where duty calls may we be not wanting there. #StandUp

— Jeremy Lundmark (@JeremyLundmark) November 14, 2015
For those of you with Hymnody in your background, you'll recognize these words from the classic hymn "Stand Up, Stand up for Jesus." That hymn is one of my favorite songs and, for me, defines how the Christian should live, walk, and even feel no matter what they face. Should Christians be afraid of Islamic persecution, the ever encroaching Islamic state, or the horrifically violent nature of ISIS attacks targeting Christians?
My answer is a resounding, "NO!"
As both an American, and a Christian, fear is not an emotion that defines me. Do I get scared. Yes. Do I fear men? No. Christians and Americans alike are not to be cowards in any sense. When danger rises, and duty calls, Christians and Americans alike have always stood tall. Let's not change that in the face of this danger. If you're fearful tonight, believer, listen to the words of this song and take them to heart…
How Then Should We Feel?
In light of the terrorist attacks in France, we first ought to feel compassion. Our hearts should break for those who have lost their lives and the lives of loved ones. Apathy should be consumed with a love for humanity that should overwhelm us as believers in Christ. Moved to tears, weeping with those who weep, we ought to consider what each family has lost on this day. Let us pray for the hurting, the injured, and the wounded. More so, let us pray they come to rest in Christ in this time of intense turmoil.
Next, we ought to rest confident in Jesus Christ, our gloriously sovereign King. He is just. He is Holy. He is Sovereign. No victory was won by Islam tonight. Not a single grain of dust was gained by ISIS against the King of Kings and Lord of Lords. The moment these terrorists died they realized it. They stood face to face with Jesus Christ, and he is now exacting just the right amount of justice from them as you read this and for the rest of eternity. He is King! Now, they know it.
Further, Christ our King has given us governments to bear the sword of justice for those who are still living. We ought to pray that the President of France and the leaders of the surrounding nations act wisely, justly, and swiftly. At last report, some of the terrorists who had exacted smaller, but no less heinous and tragic, acts were still on the loose. Let us pray that the French military catches them quickly and brings them to justice.
Finally, with compassion in our hearts, and confidence in our bellies, let us stand with courage for the cause of Jesus Christ. Danger has risen! Duty has called! We have been met with an innumerable number of foes! What are we to do? Fellow Christian, do as the song says,
Stand up, stand up for Jesus! The trumpet call obey; Forth to the mighty conflict, in this His glorious day; Ye that are men now serve Him against unnumbered foes; Let courage rise with danger, and strength to strength oppose.

Stand up, stand up for Jesus! Stand in His strength alone, The arm of flesh will fail you, ye dare not trust your own; Put on the gospel armor, each piece put on with prayer, Where duty calls or danger, be never wanting there.
______
Photo © Reuters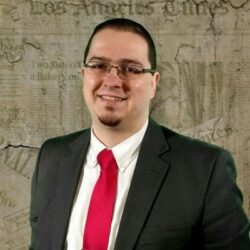 Latest posts by Jeremy Lundmark
(see all)