Overview
We kick episode 37 off with a review of a recent Calvinist vs Arminian debate which has begun on the Ask A Millennial Christian Podcast. In the first of these debates, opponents from both sides squared off on the issue of Total Depravity or Total Inability. We look at the importance of establishing willful depravity in this conversation, as well as the interesting notion that the Gospel itself is intrinsically able to save the lost.
Next, we briefly talk about Ben Carson's endorsement of Donald Trump and the large amount of Evangelicals who are backing him as well. We consider whether or not the prominence of the false prosperity Gospel may be playing into the evangelical support of Trump.
In our #Uncredible segment we are joined by Aaron Jeffries, also known as the Church Husher. We discuss the need for Christians to apply Romans 14 on social media. We then discuss the state of fatherhood in the church and in the world. Ultimately, we call on fathers to assume their biblically ordained role and not to buy into the culture's expectation of their absence.
For our main topic, we discuss whether or not hard and fast distinction between happiness and joy can really be applied to the scriptural terms. Specifically, we look at the Greek word χαρά (kara) and it's use in Lamentations 5 and 2 Corinthians 2. Ultimately, whether the distinction is made or not, we must recognize that joy in the life of the believer ought to manifest itself not as lesser than what we may mean by happiness, but by something greater.
Links from Episode 37
Ask a Millennial Christian Podcast -Tyler Vela & Sean Cole (Calvinists) vs Leighton Flowers & Braxton Hunter
Back Row Online
Calvinist BatGirl
_____
Photo by Andreas-photography via Flickr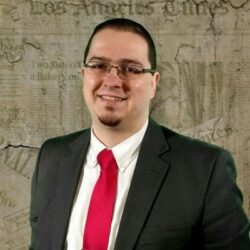 Latest posts by Jeremy Lundmark
(see all)