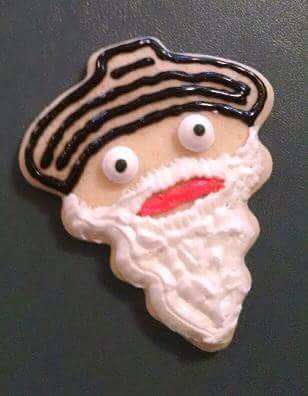 Just like my salvation, this recipe is not of myself, it is a gift of God. Actually, the idea came from the ReformedPub Facebook Group where a one Allen Petrowich posted a picture of his friend's John Calvin Christmas cookies.
This recipe is super simple and we give all the credit to Allen and his buddy.
How to Make the John Calvin Christmas Cookie
It's really quite simple. First, you whip up a batch of your favorite cookie mix. If you don't know how to make a basic cookie, you're not ready for Calvinist Cookies. Grab a cook book or Google "How to make Christmas cookies," and get to work.
Next, roll out the dough and pull out your Christmas tree cookie cutters. Yes…your Christmas tree cookie cutters. Proceed to cut your cookie batter into as many little Christmas tree cookies as you want.
Finally, bake in the oven and pull them out. Once cool, get ready to turn these Christmas tree cookies into Calvinist Cookies!
The Secret? Turn Christmas Upside Down.
Okay, we're not actually going to turn Christmas upside down. Actually, you're going to turn those Christmas tree cookies upside down and ice them accordingly. The trunk will become the top of John Calvin's hat. The branches will become his epic beard. Then fill in the lips and eyes.
You can use whatever colors you'd like, but I personally like the colors used in the example above.
Black Hat – Total Depravity
Red Lips – The Shed Blood of Christ
White Beard – Our sins completely forgiven and our garments as white as snow.
Merry Christmas!
Do you have any creative ways of turning Christmas treats into Calvinist Christmas Treats? Share your ideas in the comment section below, on our Facebook page or on Twitter and remember to tag @TheologyMix. Also, if you decide to duplicate this recipe, be sure to share your results with us as well. We'd love to see how your Calvinist Cookies turn out.
To you and yours, @CalvinistRamsay wants to wish you a very Merry Christmas!
Latest posts by Calvinist Ramsay
(see all)