As a pastor, I have the flexibility of working from home. This is useful, as my wife and I have a couple of small children who are not yet school-aged, as well as a couple in school. My wife and I split the duties so that we can get here, there, and everywhere. It's not always easy looking after the children whilst trying to work, so we have been discussing some alternatives (like hiring an Au Pair from somewhere like https://www.goaupair.com/ for example), but we have managed to cope in the mean time.
While I could easily set up an office in the basement, there is no daylight down there, obviously not helping the daily struggle against loneliness and depression, simply based on the nature of what I do. Therefore, I choose to use my dining room as my office away from my office whenever I am not in my office (stay with me). This poses a problem: there still needs to be some privacy and silence in order to study and think, even though I am very good at blocking out distractions. If it ever got too noisy and distracting in the dining room, I could always consider getting some cheap office furniture to set myself up in the basement. Although it would be dark and lonely, some nice office furniture should brighten the place up. For now, I'll stick to the dining room though.
Working from home is going well so far. In the office, we normally have a paper filing system but due to working from home, we now use file management software (similar to the one offered by Filecenter). I always used to lose paper documents but with this new software, it's so much easier. It's just another benefit that working from home has had for me!
For a while, I had dreamed of having a barn door installed, separating the dining room from the kitchen, but on a pastor's salary, it wasn't the most important thing. So I put the idea on the backburner for quite a long time until one day I thought, "I can build my own for a fraction of the cost!"
But I possess a unique combination that threatened to shut down the operation: I am a perfectionist, yet I am also not that handy. This duo usually doesn't work well together. Fast-forwarding a bit, I ended up buying the materials from the local hardware store and found some parts online to save on funds. I set a budget and almost stayed within it. I always tell people, "I'm not frugal; I'm just plain cheap!"
I told my wife (translated: "asked her permission") my plan and she was actually down with it (excuse my slang)! Immediately, I designed a template on my computer and told my wife, "This is what it's going to look like…in theory." Then I got to work fastening boards together and using stain (that I already had from when I purchased the home), trying to give it that authentic "barn door" look that all the millennials are crazy about. Now I am not a patient person, but through a lot of prayer and staying focused on the template, I finished the door and had it hanging up within three days.
Okay, you are probably wondering what my DIY ramblings are all about, so I will try to make a spiritual application from a few pieces of wood-hey, it's been done before! My original goal was to have a space to myself whenever I was working from home, since I require a decent amount of study time to prepare between three and four different messages every week, and I don't just throw them together on Saturday night (if that is your thing, more power to you, but that is not my style). Anyway, this door project sparked something and it ended up becoming more than just a separator between rooms; it actually did just the opposite.
Beginning with a door, we began to see this as an opportunity to rearrange and redecorate our dining room in order to make it a place that we could come together since we had previously neglected it most days. It was desperate for a lick of paint so we started looking for colours that would suit. It was at that point that we found some peel and stick wallpaper that we thought would really breathe some life into the room. We had some old, hand-me-down furniture that was beautiful back in the day, but was now falling apart and no longer sturdy (it was especially embarrassing when we had guests over for dinner). So we found a good deal on a gently used dining set and purchased it the same week. Now we have meals around the table and use this time as an opportunity to share what has happened throughout the day, as well as have a time of family devotions.
You know, I preach about the importance of having a "family altar" (as they used to call it years ago), yet with the busyness of life, I often neglected it in my own family. This was like a wake up call that my children are not getting any younger and the days seem to be flying by faster, therefore, the time to act is now! There was a sense of urgency to put more intentionality into our family time and have a place to come together and simply enjoy one another's company. We could all benefit from simplifying. The other rooms are filled with TVs and other electronic devices, as well as kids' toys, but we really needed a place to set aside as a place that could serve as a "family room" albeit it doubles as our dining room.
As I have written in the past, we as parents have a crucial responsibility to train our precious children according to the truth of God's Word. The Bible tells us "The father of the righteous will greatly rejoice, And he who begets a wise child will delight in him. Let your father and your mother be glad, And let her who bore you rejoice" (Proverbs 23:24-25). They are not going to get godly wisdom from the world, so the duty is ours.
My main point is this: rather than using my newly-decorated space as merely a place to find quietness, it was also a place where we could slide the door closed and separate ourselves from all the stress-inducing things awaiting us in the other rooms. We know where the problem lies with society today, or at least the foundation. It is in the breakdown of the family. Unless we intentionally close the door to block out life for a little while each day so we can focus on our relationships with one another, we are just contributing to the decay of the world. Whether you have a physical door or a hypothetical one, determine to use it in order to make your family a captive audience so you can be together and in the same frame of mind, working as a unit.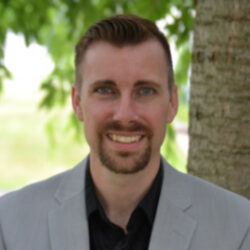 Latest posts by John Mallonee
(see all)