I originally wrote this story in 2018. I went looking for it this morning because there are definitely some of us who are not coming to this Thanksgiving with joy in our hearts and thanks on our lips. "This morning," by the way, was election day for those of us in the USA. So yeah, it was a bit stressful.
How could we be brimming with gratitude, given the dumpster fire of 2020? I began a preaching series last Sunday about gratitude, and we began honestly assessing the fact that, right now, even talking about gratitude might sound hurtful to those who have suffered horribly this year. The very thought seems privileged, and yet—the thought of not finding gratitude sounds like despair. We are not people who despair. "We do not lose heart" (2 Corinthians 4.16).
Maybe it's affected you personally in a deeply painful way. Unemployment. Death. Long illness. Financial distress. Fear for your black sons and daughters. A society that refuses to hear your pain and fear.
I don't know what it is for you this year, but I know this. The anchor holds. So here is my story from 2018.
I approached Thanksgiving two years ago feeling less than thankful. With a body dematerializing before everyone's eyes for reasons no one could diagnose, I entered the season sick, exhausted, and scared. I could barely get up most days, and when I did, it seemed everyone was posting their "What I'm thankful for" on Facebook.
It had been six months since I got sick. It would be almost another year before we discovered why. How do you lead people in thanksgiving when you spend your days begging the Lord to heal you, to help you find out what's wrong, or at least to allow you to get a meal down and feel good for five minutes a day?
I reached for a little-known line in Scripture for answers: "…they were afraid we would soon be driven against the rocks along the shore, so they threw out four anchors from the back of the ship and prayed for daylight" (Acts 27:29 NLT).
Back story: Paul is in danger of being shipwrecked here. The men with him are terrified. They aren't thankfully posting pictures of their holiday at sea; they're crying out for mercy. "All hope was gone," Scripture says (Acts 21:20 NLT).
All hope was gone.
I knew the feeling.
The last line of the tale shone like a beacon in my own storm. Sometimes, I realized, we can't see through the storm, and the best thing we can do is toss our anchors and pray for daylight. Anchors keep a ship stable. When they dig into the seabed below, they hold. It may be chaos up above, but the ship won't drift when the anchor is dropped.
There are likely many of you who feel guilty because you are harboring less-than-thankful feelings this thanksgiving. Sadly, guilt drives us farther from the God who is the only hope when all hope is gone. Guilt isn't an anchor—guilt is a gale blowing us off course. We may not see ahead, but we can know what's written on our anchors.
Anchor #1—God Is Good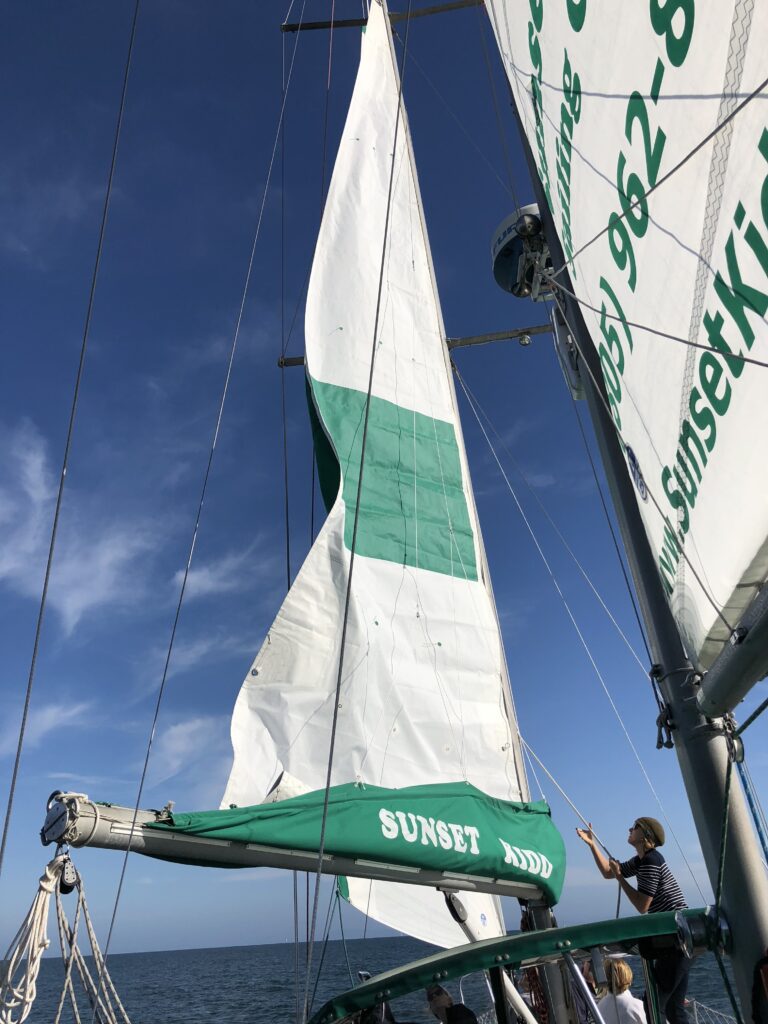 We toss around "good" all the time. It's all good. I'm good. She's good. But in Scripture, the word "good" means something more. "Good" is a mix of just, holy, gentle, kind, patient, and merciful. Biblical goodness is an anchor because it can never change. God cannot stop being good. He will always be unfailing love, faithfulness, and compassion.
"Good" is also a verb. God doesn't just have good feelings toward us—He makes good happen. So saying that God's goodness is an anchor is knowing his power is bent on kindness toward us. Maybe we can't see it, but we can feel it hold us in chaos.
Anchor #2—God Is Love

When the doctor asked my husband nine years ago if he would donate his kidney to me, I knew the answer. He would say yes. His character was to love me as he had promised—in sickness and health. It did not hinge on my deserving it; it was who he was.
How do I know God's love is an anchor I can trust in darkness? It's his character, proved by his actions. Do I doubt his love? If I do, I have only to look at the cross where he died alone in agony. There is no greater proof of love.
Maybe you don't feel it right now, but God's love is an anchor that will not let go of the bottom of the sea. It will be there until the light of morning.
Anchor #3—God Is Love
"Don't be afraid, for I am with you. Don't be discouraged, for I am your God. I will strengthen you and help you. I will hold you up with my victorious right hand" (Isa. 41.10 NLT).
I gave birth three times, each time willing to battle the world and all its forces to keep safe the little life in my womb and later in my arms. God is no different when it comes to his children—he is only infinitely more capable.
Imagine this: you are surrounded by the hands that formed the Rocky Mountains, the Pacific Ocean, Mount Everest, the Grand Canyon, and every atom of the human body. God is able. No matter how badly the sea shakes, that anchor holds.
Anchor #4—God Is Enough
The summer before I turned nineteen was rough. Having lost my mom, I returned home from school to a suicidal, alcoholic father. One of my best friends killed himself. I was in a terrible car accident. All the while, I sang in a group that praised God in the evenings while I questioned him during the day.
One of those evenings, I realized I had a choice. I could walk away forever, or I could believe that no matter what else happened, God would be enough. Even if I ended up like Job, losing everything, I would not let go if he was all I had. It was a hard anchor to toss, but it held.
I didn't feel like praising God that Thanksgiving a few years ago. Maybe you don't right now. Don't feel guilty for not being able to dredge up feelings of thanks. Drop your anchors. You don't have to feel them to know they're there. Pray for daylight. I'll pray alongside you.
Photo credit: Jill Richardson
Give all your worries and cares to God, for he cares about you (1 Peter 5:7 NLT).

Latest posts by Jill Richardson
(see all)