The Votes Are in From Iowa and New Hampshire
The votes have finally started pouring in. The media pundits are no longer leaning on questionable polling data, and the race for the White House in 2016 is quickly changing.
The Republican Race After Iowa and New Hampshire
The Republican primary race is extremely fluid, but we are starting to see the field solidify. After the Iowa Caucuses, Senator Rand Paul, Former Governor Mike Huckabee, and former Senator Rick Santorum all dropped out of the presidential race. The big surprise in Iowa was Ted Cruz's defeat of Donald Trump, coming in a strong first.
Iowa Caucus Results
Ted Cruz – 8 Delegates
Donald Trump – 7 Delegates
Marco Rubio – 7 Delegates
Ben Carson – 3 Delegates
Rand Paul – 1 Delegate
Jeb Bush – 1 Delegate
Carly Fiorina – 1 Delegate
John Kasich – 1 Delegate
Another surprise came in the form of Marco Rubio, finishing a strong third heading into New Hampshire Primary. Governors John Kasich, Chris Christie, and Jeb Bush brushed off their abysmal Iowa results and headed to New Hampshire where they hoped to have a strong showing to jump-start their campaigns. New Hampshire was no less surprising as former Ohio Governor John Kasich jumped to second place, leaving Cruz, Rubio, and the other governors in his wake.
New Hampshire Primary Results
Donald Trump – 10 Delegates
John Kasich – 3 Delegates
Ted Cruz – 2 Delegates
Jeb Bush – 2 Delegates
Marco Rubio – 0 Delegates
After the New Hampshire Primary, Governor Chris Christie announced the suspension of his campaign. Jeb Bush is declaring a sort of victory heading into South Carolina, and there has been very little talk about where Marco Rubio's campaign stands. You'll notice that I haven't given percentages of votes. That's because popular vote does not elect people in our nation. Delegates elect people. Right now, the total delegates is what really matters and here is how the candidates stack up:
Total Delegate Count
Donald Trump – 17 Delegates
Ted Cruz – 10 Delegates
Marco Rubio – 7 Delegates
John Kasich – 4 Delegates
Ben Carson – 3 Delegates
Jeb Bush – 3 Delegates (source)
Now the delegate process can be a bit confusing, and is different for each party, but an explanation can be found, along with current delegate counts, at bloomberg.com. As the race progresses, more delegates will be earned and clearer winners will emerge. For now, the top six seem poised to continue on to South Carolina, but Carson's weak showing in New Hampshire and Iowa raises questions about whether or not he should continue.
For now, we can say that Trump is the clear leader with Ted Cruz being the top challenger. Rubio, Kasich, and Bush are vying to gain momentum from third place. If Kasich's strong showing in New Hampshire translates to donor dollars his campaign may keep going and continue to surprise. Jeb Bush's infinitely deep pockets will keep him in the race and, as others run out of money, he'll begin to collect delegates along the way.
South Carolina offers fifty delegates and Nevada has another thirty. As we come to the end of February, I'd expect the GOP primary race to solidify to two or three candidates with the rest suspending their campaigns. I'd expect a strong showing out of Trump and Cruz and a toss up between the rest in those states.
The Democratic Race After Iowa and New Hampshire
The Democratic race for nomination has clearly narrowed down to two candidates: Bernie Sanders and Hilary Clinton. Bernie Sanders shocked the Clinton juggernaut in Iowa by splitting votes down to the flip of a coin…literally. While the popular vote was split 50/50, the delegate count was not so close.
Iowa Caucus Results
Hilary Clinton – 29
Bernie Sanders – 21
Still, the resounding message coming out of Iowa, heading to New Hampshire, was that Bernie greatly exceeded expectations as they headed into a New Hampshire Primary where he was polling ahead of Clinton. As the campaigns neared Tuesday's primary election in New Hampshire, the Clinton campaign began doing damage control seeking to "close the gap" on how badly they were going to get beaten.
Sanders did not disappoint. He once again clobbered the Clinton campaign garnering 60% of the votes, while the Clinton campaign only garnered 38%. However, as the media discusses the historic defeat the delegates on the Democratic side show a bit of a different story:
New Hampshire Primary Results
Hilary Clinton – 15
Bernie Sanders – 13
If you don't understand how that works, the super delegate process is explained here. Right now, Bernie Sanders has a long way to go against Clinton in the delegates though he seems to be winning in the overall votes category. Certainly the Democratic battle has solidified to two candidates who will battle it out all the way to the end. Clinton once again faces the reality that she may get beaten after being crowned the inevitable candidate.
Where Do We Stand After Iowa and New Hampshire?
Ultimately, the biggest surprise from both Iowa and New Hampshire has been Bernie Sander's massive rise in support. It's no longer about polls or projecting support. These are real votes being cast and Sanders is winning the popular vote handily while coming up short on the delegate side. On the GOP side, Trump is back on top and looks poised to begin solidifying himself as the Republican nominee. Right now, it's hard to cast predictions. If Sander's momentum continues, we could very well see a general election between Donald Trump and Bernie Sanders. If not, Clinton may take the super-delegates to the bank. In which case, we'd see Donald Trump vs Hilary Clinton and that seems to be, for better or worse, where America is headed.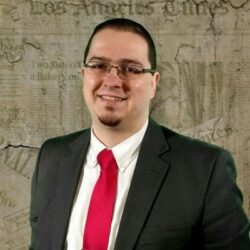 Latest posts by Jeremy Lundmark
(see all)