Today we get to talk about one of my favorite topics—Christians judging others!
Let's be honest—there are a lot of Christians out there who approach discovering other people's flaws as though they were Judge Dredd.
https://www.youtube.com/watch?v=4_n7TRmkojY
Yeah…not the way God intended it.
Here's today's word…
JUDGMENT
Judge not, and you will not be judged; condemn not, and you will not be condemned; forgive, and you will be forgiven; give, and it will be given to you. Good measure, pressed down, shaken together, running over, will be put into your lap. For with the measure you use it will be measured back to you.
This is where a lot of people simply stop reading. I recently saw this picture: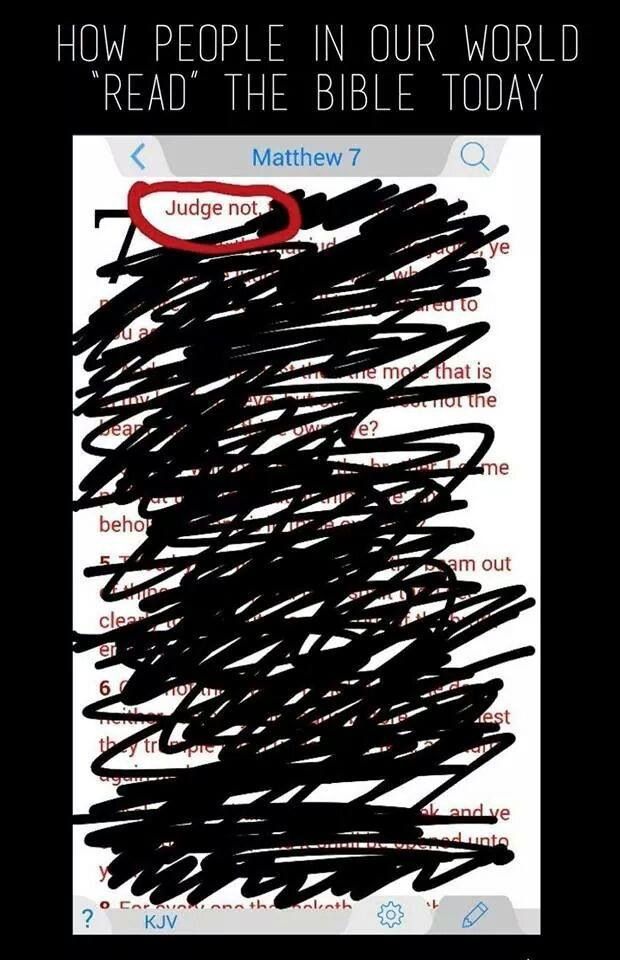 We like the part about not judging. We point it out to others every time we feel people are saying we're behaving inappropriately.
But Jesus doesn't stop there.
He also told them a parable: "Can a blind man lead a blind man? Will they not both fall into a pit? A disciple is not above his teacher, but everyone when he is fully trained will be like his teacher. Why do you see the speck that is in your brother's eye, but do not notice the log that is in your own eye? How can you say to your brother, 'Brother, let me take out the speck that is in your eye,' when you yourself do not see the log that is in your own eye? You hypocrite, first take the log out of your own eye, and then you will see clearly to take out the speck that is in your brother's eye.
You see, Jesus isn't really talking about prohibiting judgment at all. He's actually talking about learning to extend grace and forgiveness just as he has extended grace and forgiveness to us.
Rather than holding people accountable to judgment (which they might deserve), the Christian character is one that embraces a new way of being. Though we don't deserve God's grace and forgiveness, he offers it to us. I think this is what Jesus is getting at when he talks about a disciple being above his teacher. If we consider ourselves to be followers of Jesus, how can we not do as he does? If Jesus offers grace and forgiveness even though it isn't deserved, how can we be so holy as to demand justice and judgment?
But don't misunderstand Jesus. The hypocrisy is to avoid your own plank while focusing on your brother's speck. It's human nature to easily see flaws in others while being blind to our own. But Jesus doesn't say to ignore the speck in the brother's eye, he says to take care of yourself first so that you can help your brother later.
It really comes down to the attitude and heart in which you point out the flaw in your brother. Are you sincerely trying to help or are you trying to tear down? Jesus says that our behavior will be a reflection of our character.
For no good tree bears bad fruit, nor again does a bad tree bear good fruit, for each tree is known by its own fruit. For figs are not gathered from thornbushes, nor are grapes picked from a bramble bush. The good person out of the good treasure of his heart produces good, and the evil person out of his evil treasure produces evil, for out of the abundance of the heart his mouth speaks.
If you love and seek the best for someone, even your judgment will show that.
We're going to have some reflection and response time. Think about the message and focus on the words of the songs.
Our first song is Losing. It's not a song of worship but a prayer for God's help. The songwriter says,
I can't believe what she said
I can't believe what he did
Oh, don't they know it's wrong, yeah?
Don't they know it's wrong, yeah?
Maybe there's something I missed
But how could they treat me like this?
It's wearing out my heart
The way they disregard

Oh, Father won't You forgive them?
They don't know what they've been doin' (oh no)
Oh, Father, give me grace to forgive them
'Cause I feel like the one losin'
Let's pray…
Our second song this morning is Jesus Paid It All and declares:
Jesus paid it all
All to Him I owe
Sin had left crimson stain
He washed it white as snow!
It's not about maintaining an appearance of holiness. We can't do anything to be good enough. It's not about what we can do – it's about what Jesus has already done!
Let's worship…
FOR REFLECTION:
– How have I deserved judgment but received grace and forgiveness?
– How have I judged others by some un-godly standard?
– How does Jesus' grace and forgiveness lead me to act similarly towards others?
MAKING IT REAL:
– This week, think about judgment. How can you avoid hypocritically judging others and instead extend grace and forgiveness?
– Make a list of people who have wronged you and pray that God would give you grace to forgive and love those people.
Updated February 11, 2018
Latest posts by Chaplain Chris Linzey
(see all)