On Tuesday night the Fox Business Network held the fourth GOP Presidential debate. The goal of the evening was to stay focused singularly on the economy. For the first time in this election cycle the prime time debate field was narrowed from ten candidates down to eight: Donald Trump, Carly Fiorina, Dr. Ben Carson, Sen. Marco Rubio, Sen. Ted Cruz, Sen. Rand Paul, Former Fl. Gov. Jeb Bush, and OH Gov. John Kasich.
The Biggest Losers: Campaigns That Should Be Suspended
Chris Christie & Mike Huckabee. Before the debate even got rolling, Presidential hopefuls Chris Christie and Mike Huckabee were both cut from the prime time debate due to low polling numbers. Yes, they both appeared in the 7pm debate but Americans are increasingly losing interest in those candidates. Early on, we saw Carly Fiorina leap from the proverbial "Kid's Table" to the big stage. After John Kasich's performance (see below) this may happen once more but I don't see it as likely.
Prediction: All the candidates who appeared in the earlier debate will begin to suspend their campaigns as 2015 comes to a close. It will ultimately come down to how much money they have in their coffers to keep going. I suspect Huckabee and Christie will remain in the race with one of them possibly taking Kasich's place in the next debate.
John Kasich. There is little question that current Ohio Governor John Kasich's White House bid will come to a screeching halt after Tuesday's debate. His decision to frantically interrupt the debate moderators, and fellow candidates, irritated both the live crowd and those watching at home. So bad was his performance that #ShutUpKasich began trending on Twitter. It would have been advantageous if someone from his campaign could have told him during a commercial break that his strategy wasn't working. It probably wouldn't have helped as Kasich even ignored the "booing" from the live crowd who grew increasingly irritated with him as the night wore on.
Prediction: It was clear from this debate that it's time for Ohio Governor John Kasich to suspend his presidential campaign. He entered this debate with low polling numbers, the crowd turned on him drastically, and his policies are clearly not in line with what Republican voters are looking for. If he does not suspend his campaign we won't be seeing him again in a prime time debate. He'll be relegated to the kid's table.
Jeb Bush. I'll be perfectly honest. I didn't think Jeb had a terrible debate. I didn't think he had a great debate either. He was just…Jeb. That being said, it's clear his road to the White House may be coming to an end. A Drudge Report poll that commenced after the debate actually showed Bush with less votes than Kasich (see above). He has been struggling with finances and recently tried to relaunch his campaign relatively unsuccessfully. While he tried to make his voice heard, he was overrun by both Kasich and Fiornia. A New York Times online op-ed said it succinctly,
Going into the latest debate, the trending question about Jeb Bush on Google was whether he was "still running for president."

The answer is yes, and on Tuesday night, he tried, yet again, to put an exclamation point on it.

But he couldn't quite run. The best that Bush has in him, in the end, is a vigorous limp.
–Frank Bruni
It was a lackluster performance that post-debate polls seem to show was his poorest yet. Bush has the moniker, the money, and the connections. The only thing he doesn't seem to have is any remaining voter support. It's becoming increasingly clear that Republican primary voters want someone who is "different" in the White House. Whether it's a young, fresh Tea Party Senator, a braggadocios businessmen, an intelligent doctor, or a polished and savvy businesswoman. The one thing it's clear that they don't want is an established career politician.
Prediction: Jeb Bush's campaign survival is all down to money at this point. Can he remain in the game with this "vigorous limp"? Truth be told, I don't think he can. I have a hunch he'll be suspending his campaign before Jan 2016. However, I also think his namesake and pride may keep him in the race. One thing is sure, as long as there's a Bush in the race, the media will find a way to keep him in the prime time debates.
Mild Performances: Amounting to Net Losses
Ben Carson. This will annoy his biggest supporters but Ben Carson did not shine in this debate. Carson never really "shines." He plays the level headed "cool-cat" in the room. Unfortunately that strategy didn't get him a win in Tuesday's debate. After a week of left-wing attacks on his credibility, this was his moment to step into the lime light. While he did take a mild jab at the left-wing media, he remained mostly indistinguishable from the other candidates on the stage. Some will see this as success, others as a failure. In the end, I think it's going to result in a decline for the good doctor.
Prediction – Ben Carson is in this race for the long haul. We'll see him in Iowa next February and he'll be situated mid-pack for the rest of the GOP debates. Barring any major faux pas we'll continue to see Ben Carson be…well…Dr. Ben Carson.
Donald Trump. Seeing Donald Trump in this list may come as a bit of shock. Sincerely, though, I think "the Donald" had his most mild debate performance and suffered one of the biggest blows to his credibility thus far from Kentucky Senator Rand Paul. Trump and Paul have sparred in past debates but this time Trump didn't stand a chance. When asked about the recent TPP deal Trump ranted, as he does, about China. As he came to the end of his time Rand Paul, from across the room, could be heard saying, "Can we just point out that China was not a part of this deal?" Debate moderators quickly noted, "That's true. China wasn't a part of this deal."
Unlike previous "mis-statements" by Trump, he couldn't dig his way out of this one. This, of course, won't matter to his ardent supporters but it will matter to serious voters. Whether he had no clue what he was talking about, or he just had a mental slip, it looked really bad for him, and really good for Paul. In the past, when Trump has appeared to be unclear of facts and details he simply states that he will have "the best people around him." This time, however, he moved on bad information and took a lump for it.
Prediction – Trump will remain the front runner in polling until voters get to Iowa. Carson was the best chance at knocking him from that pedestal. Cruz seems poised to mount a strong charge in the next month or so but with the growing Tea Party Vote split between Cruz, Paul, and Rubio (see below) none of them, alone, will be able to surpass Trump.
Big Winners: Getting a Boost as the Primaries Edge Closer
Carly Fiorina. Fiorina continues to impress with her ability to answer questions clearly, and concisely. Her "script" is becoming much more clear with each performance but she continues to show that she can step outside the script to answer critical questions directly. Another impressive factor is her ability to see how voters respond to her debate performances, and adjust accordingly. In Tuesday's debate she avoided sparring over her business record with Trump and really avoided sparring with him at all. She has learned that sparring with "the Donald" only serves to hurt her campaign and she made the adjustment flawlessly.
For me personally, Fiorina had a mild debate performance. That said, Trump getting fact checked, Carson's inability to capitalize on his recent media attention, and Jeb's "limping" performance left the door open for a mild Fiorina performance to actually make her a winner. Had Carson, Trump, or Bush shined she would have suffered for this performance but because they all stumbled, she became the beneficiary.
Prediction – Carly isn't going anywhere. I suspect she may overtake Ben Carson among the "non-politician" group. I'm not sure she did enough to distinguish herself and get a huge bump in the polls, but she'll be a focal point as we head to Iowa in February.
The Tea Party Candidates: Ted Cruz, Marco Rubio, & Rand Paul
Without question Tuesday night's debate was a huge win for the three Tea Party Candidates. Rand Paul is reported to have had the best debate performance of his campaign. Ted Cruz was listed as the debate winner by a number of media pundits and Marco Rubio appealed to more moderate republicans with his strong views on family and military expansion.
Overall, this debate was a huge win for the Tea Party Candidates. The Drudge Report post-debate poll had Trump in first with 37%, and Cruz, Paul, and Rubio eating up a combined 50% of the votes leaving slim pickens for the rest of the candidates. While the Tea Party as a whole benefited from this, I'm not entirely sure this debate was good for each respective candidate. Rubio and Paul sparred on foreign affairs and Cruz tried to play the middle ground between them. With each of them showing their key differences, voters got a good look at what makes them different.
Unfortunately, so long as all three of them are splitting Tea Party votes, not a single one of them will emerge as the front-runner to challenge Donald Trump. Ted Cruz seems to have the best chance of challenging Trump but Rubio is eating up a lot of moderate support with his stance on foreign affairs. Rand Paul continues to eat away at both of them and is beginning to soar. As his support grows, though, Rubio and Cruz will see their support wane. This could be a strategic disadvantage for all three as they head to Iowa in February.
Unless Cruz, Rubio, or Paul steps aside and throws their support behind one of the others, I think Donald Trump has a really good chance of getting the GOP nomination. Based on Tuesday's performance, Cruz came out the biggest winner among these three as Paul and Rubio drew clear lines in the sand on foreign affairs and military spending. I would be interested to see two of these three join forces before Iowa but that's not likely to happen. Rand Paul has an impressive ground game in place to win early in Iowa, New Hampshire, and Nevada. Do Rubio and Cruz have the staying power?
Prediction: Rand Paul will continue to rise in the polls and get big wins in Iowa and New Hampshire in early February 2016. Subsequently, Rubio or Cruz (or both) will suspend their campaigns and throw their support behind Paul. If Paul falters early, he will suspend his campaign to support Cruz. Rubio will continue to impress in debate, but will fail to garner the support needed to go the distance beyond February 2016.
Photo via AP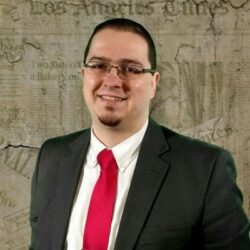 Latest posts by Jeremy Lundmark
(see all)