Join us this week on Christian Devotions SPEAK UP! as host Scott McCausey welcomes Christmas in July with Angie Martin!
Angelika "Angie" Martin came to a personal relationship with Jesus at age seventeen and began writing out of necessity while studying drama and theater at a Christian college. A scarcity of published faith-based materials inspired her to write short stories, skits, and scripts, which led to directing. The writing continued as she found herself surrounded by children while working as a community youth director at a military base in Germany, and serving in other positions—Sunday school teacher, vacation Bible school teacher, YMCA summer camp director, and private Christian school teacher.
Drawn to the arts, Angie found writing allowed her to express herself creatively—whether a poem, song, skit, article, short story, devotion, lesson plan, or curriculum. Her most important life experience as mother and grandmother led to the challenge of finding a Christian alternative to the secular holiday sensation surrounding a magical Christmas elf. Her desire to see Operation Birthday Celebration in print also allowed her to try her hand at illustrating.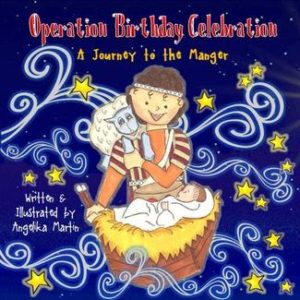 A hillside outside the little town of Bethlehem buzzes with activity as a group of shepherd boys eagerly await assignments for a special Christmas mission. Each boy has a partner—a lamb that serves as his scout. This elite drum-squad has finished training under instructors Asa and Simeon and are gathered for final roll call. Jesse and his spirited lamb, Bongo—prone to exploring and playing games—are missing.
Soon the team hears a familiar sound: Jesse is beating his drum and singing his catchy song, bringing his stray lamb home again. Jesse receives the last assignment, and in a flurry of excitement the boys reveal their destinations. When the Eastern Star is bright, they will ride the desert wind to locations across the world. Many boys and girls have not learned the real meaning of Christmas. The drummer boys and their scouts have only a few weeks to share the good news of Jesus' birth with their assigned family before returning to Bethlehem December 25th.
With excitement Jesse and Bongo discover the home they have been assigned to is YOURS!
Serving as the women's ministry coordinator at Colonial Heights Christian Church—leading Bible studies and organizing women's events—keeps Angie in touch with the pulse of Christian women and mothers. As the center director for Hope House, a crisis pregnancy ministry in Kingsport, Tennessee, she is able to merge her vocation and passion: mentoring women and spurring them on to discover a higher calling by experiencing the power of God's Word. Created in the image of the God, Angie believes we are all endowed with a sense of creativity. The work of God's people should always outshine that of the secular world. Nothing excites her more than finding creative ways to share God's message!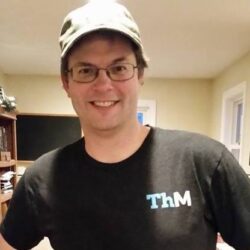 Latest posts by Scott McCausey
(see all)