We were running late that September day, so my wife Shirin and daughter Sarah missed their regular train at the Babylon station of the Long Island Rail Road. Just as I saw them disappear into the crowd rushing to get into Manhattan that bright, sunny morning, my daughter Stephanie and I heard on the car radio that a small plane had crashed into one of the Twin Towers. I thought little about it, assuming some minimal damage had been done to the great structure.
Minutes later, the information was corrected. It wasn't a small, single-engine plane but a full-sized airliner.
And then a second plane struck.
Dread filled my heart as I tried to call Shirin and Sarah on their cell phones and, simultaneously, remain calm and not worry Stephanie. But everyone in the New York Metropolitan area was also trying to reach their loved ones. Communication was impossible.
That began a period of agonizing waiting and praying.
On the train, Shirin and Sarah kept hearing cell phones going off, and words of shock and disbelief echoed throughout the train car. The familiar landscape had changed. They saw ahead through the train windows what looked like two chimneys smoking in the distance. Even though they could see what was happening, they still felt that somehow it wasn't possible. The Twin Towers were indestructible, weren't they? It was probably how people felt when they heard that the Titanic had sunk.
Shirin and Sarah's was the first train stopped at Jamaica station. They jumped out and raced through the crowds to the end of the platform and saw nothing but smoke billowing out where the brilliant icons of the New York skyline once stood. By now, it was clear to everyone that the unbelievable had happened.
Terrorism had struck home.
As hard as we tried, Stephanie and I couldn't reach Shirin and Sarah. We had to wait and pray for another eight hours before being able to get them. We then discovered that theirs was the first train stopped at Jamaica Station before entering the tunnel into New York City. They, too, would have been in the city that day if they'd been on time.
Only those there can know the massive panic and widespread chaos that engulfed the entire region. It was as if a nuclear blast had taken place. No one doubts that the world changed on 9/11 and will not return to what it was before.
But what will stay the same is what became evident to a great many: God is trustworthy and sovereign, even when everything appears to be falling apart. He is in charge of everyone—what is intended as evil to harm us, God intends for our good (Gen. 50:20)—on an international, national, and even personal level. We can't explain all his purposes in such things, but we can see the evidence that there is a preserving hand active in them all—for now, and to eternity.
As Christians, we're just as vulnerable as the next person. We can permit terror, violence, and intimidation to overwhelm us completely, or we can say with the Psalmist:
God is our refuge and strength, an ever-present help in trouble. Therefore we will not fear, though the earth give way and the mountains fall into the heart of the sea, though its waters roar and foam and the mountains quake with their surging. -Psalm 46:1-3
God calls us to be his people of strength and courage. Our times are in his hands. If these situations fill you with fear, remember that God is by your side—we have nothing to be afraid of. Let this thought empower us to walk boldly and encourage our families, neighbors, and friends. Read through the Scriptures, and sing songs of God's power and deliverance. Praise him for his might and mercy. We can be the pillars people lean on during these fear-filled times—wherever we are.
Let us recommit ourselves to live every day as though it might be our last, determining to fill each moment of our lives in joyful love and service to each other, restoring broken friendships, and glorifying a gracious God who has given us every day as a great and precious gift.
-Photo by Jack Cohen on Unsplash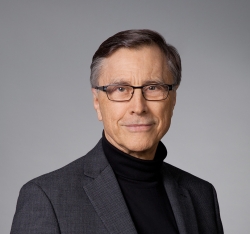 Latest posts by John I. Snyder
(see all)