"You can't smoke, drink, go to movies, listen to rock and roll, or dance. The Holy Spirit won't come into a trash can."
I heard the pastor make this point emphatically in a sermon years ago, and, as an impressionable, you-don't-question-the-pastor's-words youth, it seemed to make sense. The charismatic speaker spoke with such authority, so exalted was he, that the Trinity in my mind had now changed to the Quarternity. There was no reason to ask, "Is this really true? Is this what the New Testament teaches?"
So I left the church that day very depressed and my entire future life flashed before my youthful eyes. I didn't smoke, hadn't thought about drinking, tried dancing and had been immediately labeled a lethal weapon on the dance floor (a dance move that had resulted in accidentally knocking my partner to the floor), but I did like to go to the movies and listen to music. And now the speaker had me thinking. "Well, I'd better vastly improve my life, or I can forget ever getting anything from God." And that was the real point of his sermon: Grace, mercy, and blessing follow self-improvement—the message was inescapable. I was doomed.
If the pastor was right, then all the Ebenezer Scrooges in the world were never going to be able to get to heaven either. Do you remember Charles Dickens' A Christmas Carol? It's one of our family favorites.
But as I journeyed through life, I discovered the Good News: No matter how earnestly that pastor had conveyed his message, it wasn't the Gospel. If the Bible did teach us that our good deeds got us into heaven, then the Christian story is no different from any other religion of works and self-effort on the market. Unless grace and mercy do their work on and in us first, then no self-improvement or spiritual maturity will ever take place.
So how is that possible?
It's because God sends his Holy Spirit into our lives to rescue us that we have any hope of entering God's kingdom and reaching the likeness of Christ. He works in ways we can't even fathom, does his cleanup (sanctification) work within us, and continues to clean (sanctify) us up for the rest of our lives. That's his job; that's what he does.
If we're waiting for our inherent goodness to make us worthy of God's grace, then it isn't grace at all—and we may have to wait a long time. Praise God he doesn't just offer us more religion, but a deep love and mercy that is worth singing about.
And there's hope for Ebenezer Scrooge, not just at Christmas, but all through the year.
O come, let us adore him…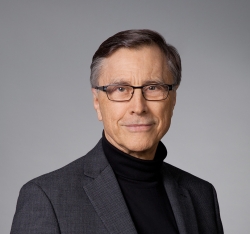 Latest posts by John I. Snyder
(see all)