"I do believe; help me overcome my unbelief!" -Mark 9.24
In this month of resurrection celebration, I often return to the beautiful story of Mary, Martha, and Lazarus and Jesus' love for them, especially in the sisters' time of devastating loss.
Jesus hears that his dear friend Lazarus is sick, and the man's sisters beg him to come. He waits a couple of days, then tells his disciples he's going to "wake Lazarus up." His disciples protest, and since euphemisms are clearly lost on them, Jesus explains that Lazarus is, in fact, dead by this time. He's not making this dangerous trip to raise his friend from an afternoon nap.
"When Jesus arrived at Bethany, he was told that Lazarus had already been in his grave for four days. When Martha got word that Jesus was coming, she went to meet him. But Mary stayed in the house. Martha said to Jesus, 'Lord, if only you had been here, my brother would not have died. But even now I know that God will give you whatever you ask.'"
Jesus told her, "Your brother will rise again." "Yes," Martha said, "he will rise when everyone else rises, at the last day."
Jesus told her, "I am the resurrection and the life. Anyone who believes in me will live, even after dying. Everyone who lives in me and believes in me will never ever die. Do you believe this, Martha?" "Yes, Lord," she told him. "I have always believed you are the Messiah, the Son of God, the one who has come into the world from God." John 11.17-27
Martha has already lost her parents, we presume since this home belongs to the three siblings. Now she has also lost her brother, and with him, all the security these sisters have in the world. Two women alone in her culture did not have the options women have now. Lazarus wasn't only a dear brother—he was their source of income and protection. This loss strikes the core of everything she fears most in life, and justifiably so. She looks at her future with eyes filled with fear, and Jesus comes down the road asking her a different question than the ones preying on her heart and mind.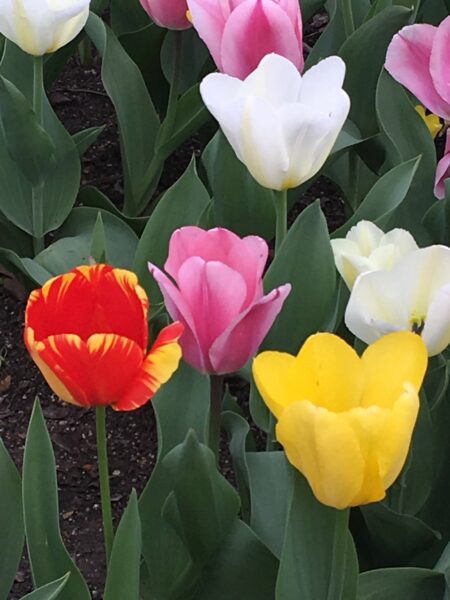 I am resurrection and life. Do you believe this?
Notice Jesus' timing—he's not asking Martha if she believes in something she's already seen. Lazarus is still in the grave. Her brother is still dead. She has zero evidence that this circumstance will change.
Jesus' question cuts to the hardest thing she will ever be asked—Has she known him enough, followed him deeply enough, understood his heart and his identity enough, to believe he is what he says he is, regardless of the evidence in her life and in her family's tomb?
In a display of faith perhaps greater than any in Scripture, both she and her sister affirm that they do. "Yes, Lord. Even now I believe."
Even now. Even when we can't see through Good Friday to Easter for all the tears and grief and fear, we believe. Then Jesus takes her even one step farther and tells her to have the stone taken from in front of the grave. This time, Martha protests. It will stink something awful. The man's been dead and behind that rock for four days. In an Israeli climate, that body's going to reek.
I wonder at times if this is our sticking point as well. We agree that Jesus can resurrect our pain and grief. We know he can bring life from death. Not only that, but we've seen it. But we falter when it comes to letting him bring out what we've buried.
We've carefully hidden away that childhood abuse, not wanting to revisit it. We know he can transform it, but we don't want to smell the stench beforehand.
We've put the resentment on a cold stone shelf, smothered it in grave clothes, and we don't want Jesus to examine it too closely and remind us of the stink.
We've set those unmet dreams and goals way up in the tomb, out of reach of prying resurrection artists who will remind us of them and the decay we're allowing to set in.
If we hand our things over to him to resurrect, we know they could stink all the way to heaven. We know they could make us smell, too. Unlike Martha, the stench is often of our own making, but we don't want to roll that stone away to smell it.
If Jesus is going to resurrect it, it's probably going to get smelly and messy before it gets good. If he's going to create new life out of our old hidden things, we'll have to listen and obey as he calls us out of that dark place, unwinding our grave clothes of sorrow, denial, and neglect, telling us to blink hard in the sunshine of completeness.
He is the resurrection and the life. Do we believe this?
Photo credit: Jill Richardson
Latest posts by Jill Richardson
(see all)