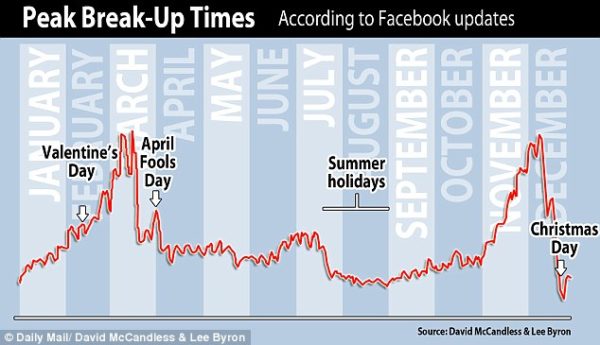 Two weeks before Christmas and a short time after Valentine's Day are popular times of year to ditch a partner, based on Facebook status updates, according to an infographic created by David McCandless and Lee Byron for Daily Mail.
It ain't right with love to share
When you find he doesn't care for you
It ain't wise to need someone
As much as I depended on you

It's a heartache
Nothing but a heartache
Hits you when it's too late
Hits you when you're down
We all go through it—you know, that relationship you thought would never end. Things seemed incredible.
You had found someone—that perfect person:
who understood you completely
shared your sense of humor—have you ever laughed so much in your life?
you had fun with…so much fun!
you talked with endlessly on the phone…and then texted each other all the time
had this amazing chemistry when you were together
you prayed with (I mean, what can go wrong when you pray for each other? It must be from God)
Everything was going well—you weren't necessarily building castles in the air, but you did think, at the very least, you'd still be friends. Because that's who Christians are and what they do.
But suddenly, out of the blue, your perfect person:
disappears, reappears periodically (likes a Facebook status, Instagram photo, tweet), and then is gone again
won't return your calls
won't respond to your text messages
ignores your emails—you don't even know if they got them
reduces you to stalking them on the Internet (you're becoming like all those pathetic stalkers, right?!)
leaves you distraught, disturbed, and discombobulated
You:
have tried everything you know to do to get them to respond, but nothing works
have no way of reaching them
feel betrayed, used, and worthless
lie in bed not wanting to get up
want God to make things right, but he's not listening
And:
the daylight hours—you can barely get through, but somehow you do
it's those hours between midnight and 5:00 a.m.—those are the ones that torment you. You ask yourself questions—What did I do wrong? Should I send just one more text? How can I make things the way they were?
your internal dialogue is driving you insane
you're willing to give them endless chances
you desperately want the pain—the feeling like you're going through a human shredder—to go away
Have you been through a heartbreak? Or are you going through one now?
Remember this:
The Lord is near to the brokenhearted and saves the crushed in spirit.
-Psalm 34:18
So it's hard to do, but trust in God, throw yourself into doing something positive for others and for yourself, and you will get through this—and come out with more hope and joy than you ever thought possible. Read the entire Psalm 37, but here's just a bit from it:
Trust in the Lord, and do good;
 dwell in the land and befriend faithfulness. Delight yourself in the Lord,
 and he will give you the desires of your heart. (It may not be what you thought you wanted, but as you look back, it will be the best thing that has ever happened to you.)
Commit your way to the Lord; trust in him, and he will act. (Leave it up to God to fix your problem. Don't harbor bitterness, anger, and resentment.)
Finally, you can look forward to that day when you will say: I give thanks to you, O Lord my God, with my whole heart, and I will glorify your name forever.
---
Photo by Jackie via Flickr
Updated December 3, 2016
Latest posts by Calvinist Wonder Woman
(see all)