"For by grace you have been saved through faith. And this is not your own doing; it is the gift of God…"
In 2001, as a freshman in Bible college, I was confused by Ephesians 2:8. As I read the verse, a question came to mind that I simply could not answer:
"What must I do, to do nothing, to be saved?"
I kept repeating the verse over and over in my mind, emphasizing this one part of the verse, "And this is not of your own doing."
Wait?! Salvation is not of my own doing?
Didn't I pray to ask Jesus into my heart?
Didn't I put my faith in Christ?
Didn't I repent and believe?
I did that.
Didn't I?
The question came again, "What must I do, to do NOTHING, to be saved." If my salvation and justification are going to be Biblical they must be, "Not of my doing."
I didn't have an answer to that question. I couldn't get an answer and, frankly, I was so new to theological study that I didn't even know how to go about asking the question.
After my first semester came to an end, I went home for winter break. My parents owned a Christian Bookstore at the time and they had recently been to the Christian Booksellers Convention. This convention is where authors distribute copies of their books to store owners in hopes that the store owner will order more of their books, and then sell them in the bookstores.
My mom handed me a book by Dr. R.C. Sproul called Loved by God. As I began reading that book, I was introduced to the doctrines of grace, election, predestination, and the clear Biblical answer to the question I was asking: What must I do, to do nothing to be saved? I must be saved…by God. I must by saved…by Grace. I must be saved… not… of… myself. God must initiate it. Not me.
It was God's acceptance of me, not my acceptance of him, that made Ephesians 2:8 fit. It was God's loving me, not my loving him, that made Scripture connect with Scripture. It was God's choosing me, not my choosing him, that made sense of my question. It was God's irresistible, electing, grace alone that must get the credit for my saving. Not me.
It was that simple, wasn't it?
I returned to my second semester in college where we began working through the second half of Romans in my Romans' class. My professor began teaching the very same things I had discovered through Dr. R.C. Sproul's book Loved by God. I had never heard these passages taught so clearly, and I thought, "Surely my professor had read the same book I was reading." However, when I asked him, he said he had never heard of it.
How was it possible that I had been in church all my life but had never encountered these truths? I had never heard these passages taught, or been taught like this. I didn't realize that I had been awakened to a system of theological thought that had a name. Its name was "Calvinism."
I returned to college and began serving in a little church in Scranton, PA. That semester I discovered that Pastor Santos was about to start the video series Holiness of God by Dr. R.C. Sproul. Unfortunately, I couldn't attend because I was teaching the children's classes. However, Pastor Santos insisted I watch these videos on my own. He then graciously let me borrow the church's copy.
As I watched, once again, Dr. R.C. Sproul, by God's grace and through God's Word, awakened my soul to the God of Scripture. I didn't realize it then, but the very mission of a man named Sproul, and a ministry named Ligonier, was being accomplished in my life. I was being awakened to the Holiness of God.
For the next decade I read, watched, and listened to everything I could find by Dr. R.C. Sproul. For every book I had to read in obtaining my Master of Ministry degree, I read a book, or listened to a tape, or watched a video by Dr. R.C. Sproul.
Dr. R.C. Sproul introduced me to the God of Scripture in a way that no professor, no pastor, no teacher ever did, and probably ever will. He held my heart and mind captive with his love, passion, and unwavering commitment to what the Scriptures say. He introduced me to God's electing love, God's covenant purposes, and God's just and holy nature. He inspired me to study, write, and preach.
Yesterday, Dr. R.C. Sproul stood Coram Deo…before the face of God.
When I heard that his health was declining, and then heard that he had passed away, I was filled with mixed emotions. I have studied the Scriptures under countless teachers and professors. I have read countless authors, and heard countless preachers proclaim the Scriptures, but none were as effective, captivating, or captivated by the Scriptures, as Dr. R.C. Sproul. None of them made it so plain, and yet profound. None held a candle to Dr. R.C. Sproul.
Dr. Sproul's preaching and writing styles were unique in their ability to expose the truth of Scripture, delve the depths of theology, and probe the inner-workings of the divine to the average lay-person. He was, and still is, in my view, unmatched by any speaker, author, or theologian of our day. Yesterday, when I heard of his passing I realized that a massive void, which will likely never be filled, now exists.
However, I cannot help but rejoice knowing that R.C. Sproul is where he has always longed to be. He is where we, as followers of Christ in a fallen world, all long to be. R.C. Sproul is with his King. He no longer has to imagine the scene in Isaiah's vision because today R.C. is basking in the train of God's glorious robe that fills the temple.
Today, R.C. Sproul is engulfed in the glory of God—that glory of God which he so vividly depicted for so many of us when he was here on this earth.
R.C. Sproul is home.
One day, we will join him in the presence of Christ, our God and King, and together we will sing, "Holy, Holy, Holy.'
Photo credit: christianheadlines.com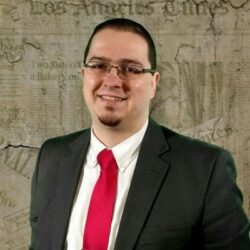 Latest posts by Jeremy Lundmark
(see all)