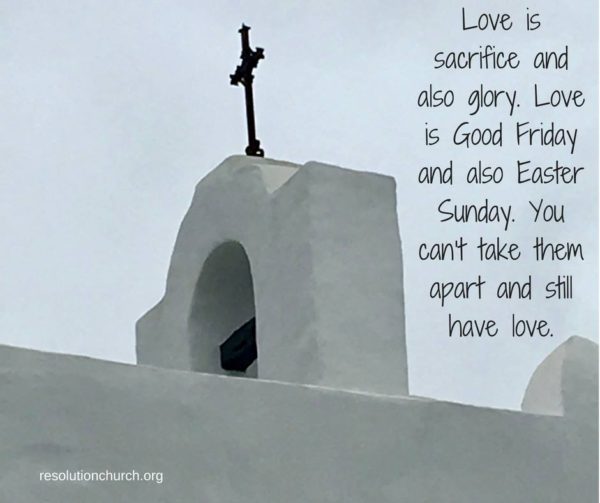 Relationships are complicated. My husband and I were friends for a year before we started to date. Before he finally asked, however, we danced around each other for a few weeks in a confused waltz of unclear intentions.
Does he? Does she? Is this happening? Who's going to go first?
I lost patience before he did. That has not changed in 32 years.
One of the most complicated relationships in the Bible has to be Peter and Jesus.
Peter. Oh, dear, crazy, too-much-like-me Peter. He is the first to recognize Jesus as the Messiah. Also, he's the first one (the only one) Jesus calls Satan.
He's the first out of the boat when Jesus gives the invitation to walk on water. He's also the first to say he never knew Jesus. One moment he'll die for his friend; the next he's wants to get on with his life as if Jesus never happened. The Rock of the church starts as a quivering, frightened boy in the upper room.
Peter is a contradictory mess. Like us.
The question Jesus asks him—the last question Jesus asks anyone—matters. It matters perhaps more than any other question Jesus levels at anyone. He levels it at us, all the time.
John 21.1-19 Later, Jesus appeared again to the disciples beside the Sea of Galilee. This is how it happened. Several of the disciples were there—Simon Peter, Thomas (nicknamed the Twin), Nathanael from Cana in Galilee, the sons of Zebedee, and two other disciples.
Simon Peter said, "I'm going fishing."
"We'll come, too," they all said. So they went out in the boat, but they caught nothing all night.
At dawn Jesus was standing on the beach, but the disciples couldn't see who he was. He called out, "Friends, have you caught any fish?"
"No," they replied.
Then he said, "Throw out your net on the right-hand side of the boat, and you'll get some!" So they did, and they couldn't haul in the net because there were so many fish in it.
Then the disciple Jesus loved said to Peter, "It's the Lord!" When Simon Peter heard that it was the Lord, he put on his tunic (for he had stripped for work), jumped into the water, and headed to shore. The others stayed with the boat and pulled the loaded net to the shore, for they were only about a hundred yards from shore. When they got there, they found breakfast waiting for them—fish cooking over a charcoal fire, and some bread. (John 21.)
Once again, Peter is the first in the water. His friends will have to do all the hard work to pull in the catch, land the ship, and everything else. He's gone.
Peter's excitement to see Jesus propels him into the waves. The old Peter returns—the one ready for adventure in the great wide somewhere.
And then, I imagine that sometime in that water, he begins to remember what he's repressed. It all comes back. He relives every moment of his denial, as his arms and legs move ever more slowly toward the shore. The smell of the fire. The particular voice of the woman who asked if he knew Jesus. The sound of Jesus' being struck and the sight of his face looking back at Peter.
He's remembering as he swims, and I'm guessing he swims slower and slower, wishing he'd stayed in the boat. That long swim in cold water woke the memory of a complicated relationship.
"Bring some of the fish you've just caught," Jesus said. So Simon Peter went aboard and dragged the net to the shore. There were 153 large fish, and yet the net hadn't torn.
"Now come and have some breakfast!" Jesus said. None of the disciples dared to ask him, "Who are you?" They knew it was the Lord. Then Jesus served them the bread and the fish. This was the third time Jesus had appeared to his disciples since he had been raised from the dead.
After breakfast Jesus asked Simon Peter, "Simon son of John, do you love me more than these?"
"Yes, Lord," Peter replied, "you know I love you."
"Then feed my lambs," Jesus told him.
My idea of a perfect day is a beautiful morning on the beach with a breakfast that someone else cooks. But there's a nagging issue. Peter may have avoided being alone with Jesus the first two times he appeared to the disciples. Now, because of his own probably-regretted impulsiveness, he can't.
Jesus takes him aside. Have you ever been in that situation? A boss, teacher, parent, takes you aside? You know it can't be good?
Peter has disobeyed and disowned Jesus. He definitely expected a different question. A talking to. A pink slip. To be voted off the island.
Do you love me?
It's not what he thinks is coming.
He dodges at first. He plays the bold face he has used before, the unique Peter bravado.
Of course, you know I love you. I'm here, right? Do I love you more than these other guys? Hey, I'm the one standing here soaking wet, aren't I?
Except Jesus isn't speaking Peter's language. Jesus' word for love is agape—a word that means sacrificial love. It's the highest form of love—one that will give of itself for someone else. It's Good Samaritan love. It's Christ's love for us. It only gives.
But Peter chooses phileo love, not agape. Brotherly, friendly love. It's like giving Jesus a fist bump rather than an embrace.
Jesus, you're just alright with me.
Yeah Jesus, I love you. Like a brother, man. Just not one I'll take a bullet for.
Jesus repeated the question: "Simon son of John, do you love me?"
"Yes, Lord," Peter said, "you know I love you."
"Then take care of my sheep," Jesus said.
The second time, Jesus drops the comparison. That's an easy dodge.
It's easy for Peter to compare himself to the rest and feel good.
It's easy for all of us to find someone who will end up farther down the scale. Someone who gives less, obeys less, messes up more, sins worse.
"Someone else" is an easy place to hide.
Do you love me? I imagine Peter's assurance came a little slower the second time.
A third time he asked him, "Simon son of John, do you love me?"
Peter was hurt that Jesus asked the question a third time. He said, "Lord, you know everything. You know that I love you."
Jesus said, "Then feed my sheep. I tell you the truth, when you were young, you were able to do as you liked; you dressed yourself and went wherever you wanted to go. But when you are old, you will stretch out your hands, and others will dress you and take you where you don't want to go." Jesus said this to let him know by what kind of death he would glorify God. Then Jesus told him, "Follow me."
The third time, Peter is genuinely hurt. He's hurt that Jesus comes down to his level of love—he asks only for phileo this time.
Finally, Peter is broken. The third time, he doesn't give an easy "you know." He uses words that imply "you have come to know." Peter bows his head and admits: you have come to know the real truth about me, Jesus. I'm still the same sinful man you met in a boat once before, catching fish.
This time, there is no bravado. He simply looks at Jesus, acknowledging what they both know—that his love is weak, and his passions sometimes overtake him.
And that's where Jesus can begin. Peter thought he was at the end—but his admission signals a beginning.
Do you love me? Then follow me. Start over. Grab a new beginning. Take a second chance. Get out of jail free.
Peter loved Jesus in glorious times of walking on water and feeding 5000 and cutting off ears like a hero—but he didn't love him in the hard, scary, unknown. Agape love is needed there, and it's much, much harder. It can't be done alone.
Do you love me? Love is sacrificial. It goes second. Or last.
We are not supposed to ask if we can afford  it or if it fits our calendar or if we like its political  statement before we ask, do I love him?
Love is not comfortable. It's hard sometimes. Love goes beyond waving palm branches in glory and sometimes has to march to the cross.
Love is sacrifice and also glory. Love is Good Friday and also Easter Sunday. You can't take them apart and still have love.
It's both. There is never one without the other in real love.
Love goes beyond sending cards to crying with others.
Love goes beyond thoughts and prayers to sacrificing for others.
It's the difference between fist bumping and footwashing.
Do you love me?
Our answer isn't always an exuberant agape yes. It's usually "you know, Lord." I do love you. But you know my weakness. I'll need your help."
That, says Jesus to Peter and to us, is where we can finally begin.
Latest posts by Jill Richardson
(see all)