Some present sanctification as a steady upward climb towards a pristine Christian life. Scripture paints a different picture and my own experience feels more biblical than the view many evangelicals espouse. Should followers of Christ manifest the fruit of the Spirit, demonstrate acts of charity to their neighbor, and grow in Christ-likeness? Absolutely! Is this a neat and precise process that is essentially wrapped up in a predefined timetable of Christian sanctification? Absolutely not. In fact, when we take a look at those within the biblical narrative of redemption, engage with the text to form our theological understanding, and think clearly about our own lives, then what we actually see is a turbulent sanctification.
A Great Cloud of Sinners
Hebrews 11 reminds us that we are surrounded by a great cloud of witnesses; however, this faithful hall of fame is just as easily viewed as a hall of human failures propelled by and persevering through faith. The scope of Moses' life might serve as a case study of sorts to remind us that the path of faith is far from linear. The man who God used mightily was also the man that God wouldn't allow into the promised land and the man who appeared with the transfigured Jesus in Matthew 17. It seems to me that faith is no more linear in the New Testament as we look at Peter through his denials and refusal to eat with gentiles (Galatians 2:11-14) and Paul in his war between his two natures (Romans 7). The cloud of witnesses were forerunners and foreshadows of the promise, but not recipients. In fact, Hebrews 11 reminds us that they were not recipients of the promise twice (verses 13 and 39). It is on that basis the author calls readers to throw off hindrances and sin as well as to run with perseverance and fix our eyes upon Jesus in Hebrews 12:1-2. Far from prim and proper, perseverance carries with it a connotation of struggle and while I wouldn't say we are in "good" company, the great cloud of witnesses, the finished work of our faith's pioneer, and the faithfulness of our God is gloriously sufficient.
Sanctification by the Book
It is critical to understand the trajectory of what Scripture teaches us. The passage in Hebrews previously referenced is a powerful reminder of several aspects of sanctification. First, it is in considering the one who endured the cross and the hostility of sinners that we avoid growing weary and losing heart (Hebrews 12:3). Look to Christ at first faith and forever. Second, the continuation of Hebrews 12 reminds us that our resistance and striving and the discipline of the Lord are also a part of this sanctification without which we will not see the Lord (v. 4-14). Romans chapter 6 is followed by Romans 7. We are now slaves to righteousness (Romans 6:18-19), but simultaneously slaves to God's law and slaves to the law of sin (Romans 7:25), yet we are delivered through Jesus Christ our Lord! Indeed, Romans 7 continues to Romans 8 and reminds us that we have not received a spirit of slavery, but of adoption (verse 15) and that we persevere with eagerness and hope for the unseen (verses 24-25). These trajectories in scripture paint a picture of sanctification that sometimes goes outside the lines, but results in a thing of beauty to God's glory, so long as our gaze is fixed upon Christ.
Honest Self-assessment
It is God's word that must inform our view of sanctification first and foremost, but self-reflection can also be helpful in its proper place. Others may have experienced what seemed like a continuous cresting of Christian maturity, but this author has had a much more tumultuous experience with spurts of growth, moments of victory, seasons of doubt, and feeling crestfallen after failures. Less like the steady ascending ski lift ride towards the peak, my experience in sanctification was much more like my recent experience skiing: filled with falling, frustration, glimpses of hope, and some periods of success along the way. Beyond the veneer of righteousness that many Christians try to publicly present, we need the very substance of Christ's righteousness imputed to sinners along with the striving of hope and perseverance that is fueled by faith.
This is not a call to disregard the seriousness of sin or the importance to seek holiness, but it is a reminder that for many of us sanctification is more like a scatter plot with an upward trend than a linear growth graph. A brief survey of the saints of old, engaging with Scripture substantively, and a candid look at our own lives leads to a view of sanctification that is more turbulent than tidy.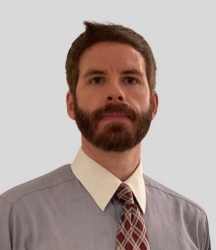 Latest posts by Chris Dunn
(see all)