The Indwelling of Divine Love
There is, however, another way in which Christians experience divine love. Christians experience divine love as they love one another through the Spirit. The love of the Father for the Son and the love of the Son for the Father is the Holy Spirit. Therefore, the Holy Spirit himself is the Love of God. Saint Augustine explains this well in his work On The Trinity when he states,
"Wherefore, if Holy Scripture proclaims that God is love, and that love is of God, and works this in us that we abide in God and He in us, and that hereby we know this, because He has given us of His Spirit, then the Spirit Himself is God, who is love. Next, if there be among the gifts of God none greater than love, and there is no greater gift of God than the Holy Spirit, what follows more naturally than that He is Himself love, who is called both God and of God? And if the love by which the Father loves the Son, and the Son loves the Father, ineffably demonstrates the communion of both, what is more suitable than that He should be specially called love, who is the Spirit common to both? For this is the sounder thing both to believe and to understand, that the Holy Spirit is not alone love in that Trinity, yet is not specially called love to no purpose, for the reasons we have alleged…"1
The Holy Spirit dwells within all believers, and so all believers have in them the Spirit of love. This is the beauty of the New Covenant. God says in Ezekiel 36:27, "And I will put my Spirit within you, and cause you to walk in my statutes and be careful to obey my rules." This occurs because the Spirit that loves God and loves God's standard for holiness will be given to dwell within all of God's people. We see this also in Ephesians 4:17-32,
Therefore, having put away falsehood, let each one of you speak the truth with his neighbor, for we are members one of another. Be angry and do not sin; do not let the sun go down on your anger, and give no opportunity to the devil. Let the thief no longer steal, but rather let him labor, doing honest work with his own hands, so that he may have something to share with anyone in need. Let no corrupting talk come out of your mouths, but only such as is good for building up, as fits the occasion, that it may give grace to those who hear. And do not grieve the Holy Spirit of God, by whom you were sealed for the day of redemption. Let all bitterness and wrath and anger and clamor and slander be put away from you, along with all malice. Be kind to one another, tenderhearted, forgiving one another, as God in Christ forgave you.
Paul lists various kinds of sins as well as what a Christian should do instead of them. Paul states in this text that not putting off the sinful patterns will grieve the Holy Spirit. Every sin that Paul lists in this passage is an act that is contrary to love. Everything that Paul says to put on in its place is an act of love. Doing things contrary to love grieve the Spirit because the Spirit is love. Therefore, the Spirit is grieved whenever something is done that jeopardize the unity of the body of Christ.2
This truth is also demonstrated in I Corinthians 13 where Paul says,
If I speak in the tongues of men and of angels, but have not love, I am a noisy gong or a clanging cymbal. And if I have prophetic powers, and understand all mysteries and all knowledge, and if I have all faith, so as to remove mountains, but have not love, I am nothing. If I give away all I have, and if I deliver up my body to be burned, but have not love, I gain nothing…
The reason why Paul says this is because he understands that the Holy Spirit is love and using gifts without love, or the Spirit, is worthless. The Apostle Paul wanted the Corinthians to understand what it was that was of true value. The Corinthians had the idea that their gifts were what would get the praises from God. Paul wanted the Corinthians to know that what God values more than anything else is not spiritual gifts but love itself. God values love so much more than gifts that to exercise gifts without love is akin to being a noisy gong or symbol.3
Christians have the Spirit of love, the Holy Spirit, within them empowering them to love. Therefore, Christian love is not simply a worldly affection. Christian love is divine love expressed through the Spirit towards one another. Christians have a unique love for one another. The love is so unique that Jesus told his disciples that it would be a distinguishing mark that will prove to the world that they are the true people of God.4
Jesus' high priestly prayer is a critical text of scripture relating to divine love. In John 17:2-26, Jesus prays;
20 "I do not ask for these only, but also for those who will believe in me through their word, 21 that they may all be one, just as you, Father, are in me, and I in you, that they also may be in us, so that the world may believe that you have sent me. 22 The glory that you have given me I have given to them, that they may be one even as we are one, 23 I in them and you in me, that they may become perfectly one, so that the world may know that you sent me and loved them even as you loved me. 24 Father, I desire that they also, whom you have given me, may be with me where I am, to see my glory that you have given me because you loved me before the foundation of the world. 25 O righteous Father, even though the world does not know you, I know you, and these know that you have sent me. 26 I made known to them your name, and I will continue to make it known, that the love with which you have loved me may be in them, and I in them."5
What we see in this text is that the love Jesus desires for his people to experience is a love that transcends the love of the world. Jesus goes as far to say that he desires that his people love one another even as he, the eternal son, has loved them. Furthermore, Jesus desires that his disciples would be one even as the Son and the Father are one. What we see in this text is that Jesus desires for his church to enter into the fullness of eternal Trinitarian love but to not just have it for God but to have divine love for one another, as well. Verse 21 states, "that they may all be one, just as you, father, are in me, and I in you, that they also may be in us, so that the world may believe that you have sent me." The only way that is possible for human beings to be one in fellowship with one another in the same way the Father is in fellowship with the Son is if the Spirit of God is present working out that kind of love. All Christians have the Spirit, which is the seal of the new Covenant and with that gift, the power to love as Christ loves.6
Augustine of Hippo. (1887). On the Trinity. In P. Schaff (Ed.), A. W. Haddan (Trans.), St. Augustin: On the Holy Trinity, Doctrinal Treatises, Moral Treatises (Vol. 3, p. 219). Buffalo, NY: Christian Literature Company.
O'Brien, P. T. (1999). The letter to the Ephesians (p. 346). Grand Rapids, MI: W.B. Eerdmans Publishing Co.
Ciampa, R. E., & Rosner, B. S. (2010). The First Letter to the Corinthians (p. 627). Grand Rapids, MI; Cambridge, U.K.: William B. Eerdmans Publishing Company.
John 13:34-35
The Holy Bible: English Standard Version. (2001). (Jn 17:20–26). Wheaton: Standard Bible Society.
Ephesians 4:30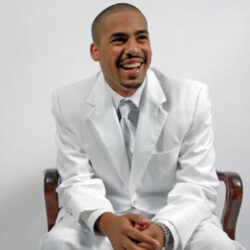 Latest posts by Kyle Howard
(see all)