Therefore, if anyone is in Christ, he is a new creation; the old has gone, the new has come!
-2 Corinthians 5:17
What is one of the main themes that keeps recurring in the faiths and literature of the world? What is that longing in the human heart that never goes away regardless of the time or place?
It's the desire that the old, the worn out, and the temporary pass away and the new, the fresh, and the lasting appear!
This is what the Gospel promises—but in a modified form. The new life in Christ is in principle the beginning of the new and the lasting, but not in fact. The current life we live on this present earth is not the final end, nor is it perfect and complete in every sense.
What Paul is saying in this passage is very real.
It means that when we come to faith in Jesus, God has staked his claim on us, he has driven his flag into the soil of our lives, yet we still await the final fulfillment of the whole process of salvation. The first signs of eternal life appear in our lives and the tokens of his future kingdom are present in and among us, but the promise has yet to take on its full dimensions.
But this is more than enough to proceed through this life with joy and enthusiasm!
We still continue to stumble and fall, we still continue to age and experience the pains of decay (in both body and mind), but as our outer form wastes away, our inner person is renewed day by day (2 Cor. 4:16).
So rather than responding grimly the way most around us do, let's see each new sign of aging as just another signpost along the way marking our journey toward the eternal kingdom, the city of God, the New Heaven, and the New Earth—and the new body!
Every new wrinkle or disability is nothing more than another page of the book leading toward the stunning conclusion, the wonderful, incomparable finale.
If we really believe this, then let's live it out to the end so that our neighbors can see and join us.
Today's Prayer
Lord God, teach me to laugh at all the many forms of aging and disintegration that occupy my concerns. Teach me to focus on the wondrous resurrection and restoration you have prepared for us. Amen.

Today's Commitment
Today I make a decision to let go of all that is temporary in my life that distracts me from God's highest and best…
_____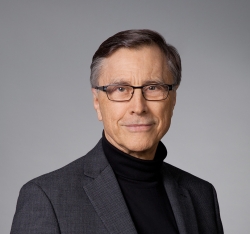 Latest posts by John I. Snyder
(see all)