I'll admit it. I'm a Christian and I love Jesus.
I also understand that I will be persecuted for my beliefs. In preparation for the persecution that was going to come, Jesus told his disciples in John 16:33, "I have said these things to you, that in me you may have peace. In the world you will have tribulation. But take heart; I have overcome the world." In preparing them for persecution, Jesus was also preparing us.
Jesus wanted his disciples to have peace which apart from Jesus we cannot have. He wanted our response to persecution to be peace.
So what's so shocking to me is that so many people, particularly Christians find it highly offensive when our faith is ripped apart and denigrated, even though the Bible makes it very clear that we, the Church, will be persecuted. (2 Timothy 3:12 – "Indeed, all who desire to live a godly life in Christ Jesus will be persecuted.")
What I think is an appalling response or a missed opportunity to express Christ's love is when an atheist or media personality or professor mocks or makes fun of Christianity and we retaliate with angry, demeaning rhetoric—like when Joy Behar recently commented on Vice President Mike Pence's faith. Instead of turning the other cheek, instead of praying for their salvation, instead of extending to them the very same love, grace, and mercy that Jesus Christ has extended to us, we fight right back with our own harsh words, criticisms, and insults, further validating their false opinions of Christians, Christianity, and ultimately Christ, himself.
We are in 2018 and I think, instead of all-out war against those who mock us, Christ wants us to respond by turning the other cheek (Matt. 5:39 – "But I say to you, Do not resist the one who is evil. But if anyone slaps you on the right cheek, turn to him the other also"), loving our neighbor (Lev 19:18, Mat 5:43, Mat 19:19, Matt 22:39, Mk 12:31, Mark 12:33, Luke 10:27, Rom 13:9-14.), loving our enemies (Matt 5:44, Luke 6:27, and 6:35), and praying for those who despitefully use us and persecute us (Matt 5:44 – "But I say unto you, Love your enemies, bless them that curse you, do good to them that hate you, and pray for them which despitefully use you, and persecute you"). (Also see Luke 6:28.)
Do we have a right to defend our faith when we are attacked? Yes, but Jesus wants us to respond with peace and kindness. Because when we respond to the enemies of the Cross of Christ with war, people die. Maybe not physically, but spiritually. And that's not the will of God (1 Pet 3:9 – "The Lord is not slack concerning his promise, as some men count slackness; but is longsuffering to us-ward, not willing that any should perish, but that all should come to repentance").
The apostle Paul in Colossians 4:5-6 exhorts us: "Be wise in the way you act toward outsiders; make the most of every opportunity. Let your conversation be always full of grace, seasoned with salt, so that you may know how to answer everyone."
So before we are ready to lead others into battle, let's ask ourselves some questions: Am I leading myself or others astray? What would be a better witness?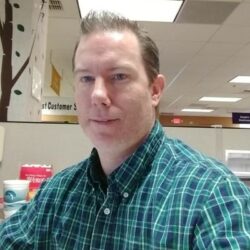 Latest posts by Eric Johnson
(see all)