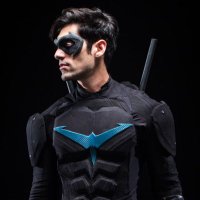 Calvinist Nightwing: By day, husband to a lovely woman, a father to three 3-and-under, pastor-in-training, worker at Walmart, and an on-and-off seminary student (that MDiv will be his…eventually). Also by day, he roams the Twitterverse as Calvinist Nightwing, seeking to live holy in both lives. By night…well, his job doesn't change depending on the time of day. So it's the same thing, but harder to see.
____
1. Why did you start a Twitter account?
A. I got introduced to the Anon culture by seeing Calvinist Batman on Twitter and I thought that was awesome. I found other Calvinist anons like Calvinist Coulson and Calvinist Chewbacca. Since my favorite superhero is Nightwing, I searched for a Calvinist Nightwing, and to my dismay there was nobody to follow. After a month or so, I was reminded of the Anons and checked again. So I decided that if Calvinist Nightwing was to happen, then it will have to be up to me. So I started the account and started an experiment to see what it would be like to have a "secret identity". In other words, nobody knew about my anon identity. The experiment has since ended (although most people still don't know my anon identity), but I enjoy the account still.
2. Who is your favourite theologian, past and/or present?
A. Past is hard to decide, but living has to be D. A. Carson. His work is remarkable. I'm neither a prophet nor the son of a prophet, nor do I work for a non-profit organization, but I still think his mark on biblical understanding will be felt for centuries.
3. What is something that people would be surprised to know about you?
A. Back in December, I pulled over on an overpass, put the car in park, turned to my right and delivered our baby girl. There were no complications (even though this was our first natural birth after two c-sections). Thankfully, the birthing center was closer than the hospital was, so they took care of us and we were home within five hours. Just a healthy baby girl and an epic story!
4. What book are you reading? OR: Besides the Bible, what book has influenced your Christian walk the most?
A. Our church is going through Revelation right now, and both our pastor and I are Amillennialists. Since I'm preaching part of the series as well, to brush up on it I've been reading Kim Riddlebarger's, A Case for Amillennialism: Understanding the End Times. Awesome book, I highly recommend it regardless of eschatological viewpoint.
5. Why is it important to study theology?
A. Many unbelievers are convinced that simply being "Not Hitler" is enough proof that God is pleased with them. These people need the Gospel, and they need it pure and without human invention. Many who profess faith in Christ are convinced that because faith is all they need to have eternal life, faith is all they need to live this life (spiritually speaking). It's not. A robust theology is what helps people navigate life through clear waters, storms, and outright shipwreck.
6. After a stressful day, what's your favourite way of relaxing?
A. Usually my wife and I either talk for a long time, or we'll play videogames (right now mostly Smash Bros.) or watch TV (for her, Bones; for me, Young Justice).
7. What's your favorite Bible verse(s)?
A. Top of the list for me has to be Matthew 6:33-34. I tend to worry, and I have heeded out Lord's advice from those verses many times.
8. Link us to your go-to song of the moment while driving to Sunday worship—you know, the song that you need/like to hear before you arrive at church?
A. So since I've got the wife and three kids along it tends to be that we just listen to the radio. But going to the spirit of the question: When I was at Together for the Gospel, we sang the song Come Behold the Wondrous Mystery. That song took hold of me and hasn't let go. I'm not much of a "cry during beautiful songs" person, but that one just leaves me in tears.
9. Who is the one Anon you would most like to smack? Why?
A. I'd have to say Biblical Batman. Because he can handle it. He's Batman.
10. What would you consider the "worst"—Christian book, Christian music, Christian movies? (If you have more than one choice, please feel free to list them.)
A. Definitely Christian movies. With few exceptions, distinctively "Christian" movies have low quality, poor acting, and bad stories. It also doesn't help me personally that many of these movies are end-times flicks dripping with dispensationalism. If you hold to that then that's different, but my aforementioned amillennialism doesn't care for that.
11. Is the church relevant? If yes, what would you consider the best way to reach the unchurched?
A. Nothing can be more relevant than Christ. If he is relevant then so is his body, the Church. The best way, then, to reach the unreached is to bring the church into their midst. Much work can be done in a person's heart when they are invited to game night with some believers. Friendly biblical conversation about practical things can whet that person's appetite. They may not immediately say, "I want to go to church next Sunday", but the hard wall against Christianity will begin to crumble. I say this, but how rarely do I practice this! How easy evangelism can be, if we'd only let it.
_______
Photo © Ismahawk
Latest posts by Theology Mix
(see all)