Have you heard of the principle of the fourth generation? At a recent conference in England, I heard Richard Dahlstrom, a pastor in the Seattle area preach on this concept. The idea is based on Paul's words to Timothy in 2 Tim. 2:2.
"The things which you have heard from me in the presence of many witnesses, entrust these to faithful men who will be able to teach others also."
So, if I consider myself in Timothy's place, I have heard the Gospel from others – the "Pauls" in my life. I am here in Albania sharing this Gospel with believers and hopefully they are then teaching others.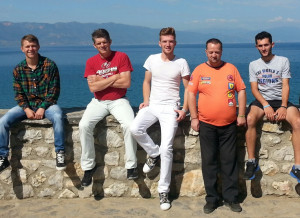 I want to introduce you to three young leaders in Albania that are reaching the next generations. Pictured from left to right are Kleo, me, Arnold, Niko, and Simeon. My wife Ruthie and I have known Kleo, Arnold, and Simeon since they started to come to our church's children's program in Erseka when they were about 8-years-old. I would like us to focus for a moment on them, as I believe they are a microcosm of what God is doing in Albania through young leaders to transform this nation.
It has been said that to grow in Christ, a young person needs five or more mature mentors coaching them in their faith. In today's age, if you notice, children are taught the orange curriculum from a young age to understand God better and to grow spiritually in their lives. Growing up in our church, these young men had multiple positive influences in their lives. As I look around our church, I know that they had healthy, vibrant input from older youth and adult believers in our church.
Pictured with us here is one of those church leaders, Niko, who is blind, (orange shirt). Niko spends quality time with these boys and continues to mentor them in their faith.
Today, these young leaders are college students in the capital city-Tirana. They are involved in local churches there and are leaders in InterVarsity, a campus ministry. During the summer months, they return to Erseka to help run our annual camping program. Kleo led the worship team this last summer. Simeon spearheaded the ropes course ministry and skillfully introduced new and exciting initiatives into the program. As one of the team leaders, Arnold had a positive attitude and rapport with the campers-encouraging and strengthening the faith of young people of all ages.
When I was privileged to be asked to speak at a national Albanian InterVarsity conference, what inspired me most at the conference was watching Kleo lead the worship and Simeon dynamically lead a small group of 10 students. It was so rewarding to see them passionately reaching out to their peers with the Gospel of Jesus Christ.
So are these young men "able to teach others also," as Paul says? I see them doing this on their college campus. During the summer camps I watch them partnering with other like-minded young people from around Albania reaching the next generation. God is at work in our little Balkan country, and for this we can all greatly rejoice!
Latest posts by Mark Stoscher
(see all)