Two of the main goals for my ministry is to bring Creative Music Experiences to people with cognitive issues AND to make them laugh. If we can sing and laugh all in one day, then success has been achieved.
Laughter is biblical. Psalm 126:2 says, "Then was our mouth filled with laughter, and our tongue with singing: then said they among the heathen, the Lord hath done great things for them." Aah, I love it when my thoughts and the teachings of the Holy Scriptures agree.
During our Christmas Eve dinner, we joined together with friends and family to celebrate Christ's birth through a good meal and fellowship. One of my friends brought "Christmas Crackers." When she said she would be bringing them, I was certainly okay with the idea, but I was not sure why she thought we needed crackers. Little did I know these were not your usual crackers.
These crackers were a type of "firecracker" that made a noise when pulled apart, and a wonderful array of little prizes fell from the cracker. My husband Michael, who is a wonderful man but slightly on the reserved side, surprised us all by demonstrating how to use one of his prizes. He received a whistle that was shaped like a mustache. He promptly blew the whistle while we all laughed at him (yes, we laughed AT him), and we are all slightly shocked at him being so silly.
Momma has mid-stage Alzheimer's, and she thought Michael's blowing of the whistle was hilarious. She laughed, giggled, and she even remembered him doing so later in the day so she was able to repeat the story. Laughter is healing. It reduces blood pressure. It decreases agitation. It reduces depression. It increases energy levels. It even has a way of landing in the brain of an individual with dementia so that they just might remember WHY they were laughing early.
Proverbs 17:22 tells us, "A merry heart doeth good like a medicine." Works for me!
Hope that gives you Something to Ponder.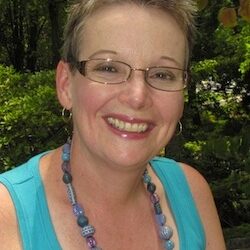 Latest posts by Carol Howell
(see all)