Do nothing out of selfish ambition or vain conceit. Rather, in humility value others above yourselves, not looking to your own interests but each of you to the interests of the others. In your relationships with one another, have the same mindset as Christ Jesus: Who, being in very nature God, did not consider equality with God something to be used to his own advantage; rather, he made himself nothing by taking the very nature of a servant, being made in human likeness And being found in appearance as a man, he humbled himself by becoming obedient to death—even death on a cross! Therefore God exalted him to the highest place and gave him the name that is above every name, that at the name of Jesus every knee should bow, in heaven and on earth and under the earth, and every tongue acknowledge that Jesus Christ is Lord, to the glory of God the Father.
-Philippians 2:3-11
In verses 6-11, one of the earliest and highest statements about Jesus, we read what could have been either an early Christian hymn or creedal confession. In a sense, it could be regarded as Paul's doctrinal version of the Christmas narratives, as it describes the descent of Jesus from his pre-earthly glory with the Father to his incarnation, coming into flesh and blood as a human being and taking on the role of servant.
What we learn by this deliberate way of life is one of the best kept secrets of the Christian message: whereas power in the world is usually found at the top (wealth, authority, position, fame, and so forth), power in the Kingdom of God is found most often at the very bottom—in the role of humble servant.
Paul tells us that we should use this as a model of what we are to do: become servants of all, prefer others before ourselves, and obey Jesus as he obeyed his Father—an impossibility without a complete dependency on Jesus.
When Jesus was accused of making himself equal with God he answered that he could do nothing of himself; he did what he saw his Father doing (John 5:19-20). This has been informally referred to as the "Parable of the Carpenter's Apprentice." Jesus watches what his Father (the Master Carpenter) is doing, then duplicates it on earth in a very close, synchronized obedience. In the same manner, his words are always what the Father commands him to say (John 12:48-50).
Among other things, this means that every miracle he performed and the words he spoke were the fruit of his daily dependence upon his Father in prayer. His ministry of miracle and word were not the direct result of his shared deity, but of his humanity—his servanthood. He acted on earth not as a Superman, but as man, the heavenly human (1 Corinthians 15:49).
Similarly, we humble servants, in daily and hourly prayerful dependence upon the Father, with the help of his Son, can attempt great things in Jesus' name. So where is this powerful, creative energy released?
Recorded miracles in church history tend to cluster around where they are needed. With those serving the poor, the oppressed, and the dispossessed—among the martyrs, the missionaries, the desperate, the hungry, and the downtrodden—those who have God, but nothing else. Greatness in God's eyes is measured not by the height of earthly majesty and position, but in the depth of humility and self-sacrifice. So we find the power of the Kingdom is manifested at the bottom rung of the ladder, in humble obedience to God and Jesus in service to others.
This Philippians passage is not just nice words to read on a Sunday morning or a Bible study, or a little theology for erudite discussion over tea, but a key that unlocks the door to the church's power room. It isn't just spiritual advice, it's the only place where pastors, members, and churches can operate once again from a position of real power—the Spirit-anointed imitation of its Lord.
This Christmas may we welcome this power into our lives and live it out in ways that make a difference to our families, workplace, and communities—wherever God places us.
Merry Christmas from our family to yours!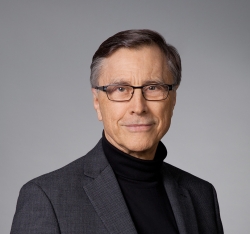 Latest posts by John I. Snyder
(see all)