Meet Nick Johnson. He's probably one of the best leaders you've never heard of.
Coach Johnson is the head football coach at Earlham College, a liberal arts institution in Richmond, Indiana. Earlham is home to just over 1,000 students, and its Quaker athletic programs compete in the NCAA Division III Heartland Collegiate Athletic Conference (HCAC). The Earlham football program's results on the field can be summarized in a single word:
Abysmal.
Since 1889, Earlham football has won just 36% of its games (360-605-23) and a dreary 24% of its conference contests (48-152). In the last five seasons, Earlham has gone 0-10, 1-8, 2-8, 0-10, and 0-10. This past year, the first under Coach Johnson's guidance, the Quaker defense gave up roughly 58 points per game en route to the program's second straight winless season.
But before you completely write off Earlham Quaker football, you must study the story behind the stat line. Just twelve short days ago, the unthinkable happened:
Coach Johnson was named the HCAC coach of the year.
In a statement announcing the honor, the conference cited: "respect for Johnson and his dedication to his profession, his program and his personal life" as key reasons for honoring the Quakers' head coach. The statement continued: "Coach Johnson instills life lessons to his student athletes on the field while embodying real life challenges."
How is this possible? An 0-10 coach named coach of the year?
Perhaps the better question is: How is it possible that Coach Johnson had the strength to coach at all?
Over the past two years, Johnson's wife Melissa has spent over five hundred nights in various hospitals—from the Mayo Clinic, to Indiana University, to the University of Cincinnati—battling a debilitating chain reaction of health challenges, ranging from severe intestinal problems to cerebral spinal leaking and brain swelling. From life flight helicopter rides to innumerable operations (Johnson said he "lost count after thirteen"), the Johnson family journey has been about anything but football. In addition to these unfathomable life challenges and the demands of a being a head football coach, Johnson is doing his best to raise Jayden and Jacob, ages 6 and 4, as their mother fights for her life.
When Johnson was offered the opportunity to take the helm of the rebuilding effort at Earlham, after serving as an assistant coach for the previous decade, he made up his mind to turn it down. His commitment and concern for his family outweighed his desire to fulfill his dream of being a head football coach. That is, until Melissa refused to take no for an answer. From her hospital bed, she told her husband to fulfill his leadership calling—impacting the lives of young men on the grid iron.
But coach at Earlham? 3-46 in the last 5 years Earlham? Why would anyone want to take on what some might call an impossible challenge?
Says Johnson: "I'm proud of this team, as odd as that may seem. I don't want any other team. I want these guys to get the lessons, and these guys to make the improvement. To see them transform and learn from week to week has been very powerful for me, and cathartic for me. Yeah, a win would be nice, and we're working toward that."
"There are lessons you get from athletics you don't quite get from textbooks," Johnson continues. "And some of those things are very transferable to the game of life, which is also a tough game for tough people. It gives me encouragement to pass on to [Melissa]. It gives me encouragement to get through the day. This has been a great release from some of the mire that has been my life the last two years."
Nick Johnson is one of the best leaders you've never heard of. His leadership is superlative because he understands what I call the "Salt" principle of leadership.
"You are the salt of the earth."
                                       -Jesus (Matthew 5:13)
The power of this leadership principle has evaded my understanding for a long time—but Nick Johnson brings the salt principle to life before our very eyes. You see, salt serves two simple purposes—and when understood in a leadership context, the salt principle can change the way we live and lead.
Salt is an ADDITIVE
This past Thanksgiving holiday I helped myself, against my better judgment, to a healthy pile of mashed potatoes. As I took my overflowing plate of goodness to the dining room table, I sprinkled a few shakes of salt over my mountain of mashed Yukon golds. As I took the first bite, naturally I said:
"Boy this is great salt!"
Right?
Au contraire. As the scrumptious potato flavor hit my taste buds, I immediately commented on how good the potatoes were. The salt was there. It was vital to the taste. It made the potatoes great. But no mention of it. Not even a thought. The salt never crossed my mind.
Nick Johnson is a great leader and a better man, but the focus is not on him. It's on caring for his wife. It's on raising his children. It's on mentoring young men into leaders, on and off the field. He is the salt of Earlham football—an additive to a pending story of future success.
Such is the way we are called to live as leaders. Ever working, ever serving, ever guiding those under our leadership care, salt principle leaders produce progress and pursue perfection. But when others take notice of the organization's drive to greatness, they talk about the organization not the leader. In the words of the philosopher Lao Tzu, "A leader is best when people barely know he exists, when his work is done, his aim fulfilled, they will say: we did it ourselves."
Salt is a PRESERVATIVE
In Jesus' day of no refrigeration and no freezers, salt preserved meat. Salt prevented spoiling. Salt prohibited decay. It kept the good from going bad.
I was a 14 year old high school freshman sitting in Mr. Duxbury's Earth Science class when the announcement came over the PA system. An aircraft had crashed into the World Trade Center's north tower. As we spent the rest of the school day watching the news and debriefing with our teachers about the unfolding events, an image remained burned in my mind:
While hundreds of people were running away from the crumbling building, hundreds of firefighters and emergency personnel were running to it. They were going in. Defying rational human logic of safety and survival, these brave souls were on a mission—to preserve as many lives as possible.
Why take the helm at 3-46 in the last 5 years Earlham College? Nick Johnson is a salt principle leader, working to preserve Quaker football. When others might run away from the challenge in order to guard their coaching careers, Coach Johnson has gone in—on a mission to build men through football, and in the process, a successful program as well.
Such is the way we are called to live as leaders. When others run away, we run to. When others say no, we say yes. When things are at their worst, we are at our best. Salt principle leaders are present when normal human logic says we should be absent, ready and willing to get involved in making things better.
Salt is an additive and a preservative. And it's what we are called to be as leaders.
Thank you Nick Johnson for being a salt principle leader. You have both our admiration and our prayers as you construct your program and care for your family.
Photo via goearlham.com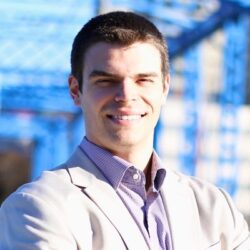 Latest posts by Tim Hiller
(see all)