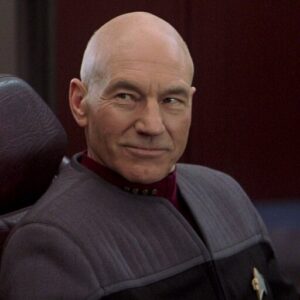 Calvinist Picard: Going where nearly every other American Christian has gone before (Twitter).
1. Why did you start a Twitter account?
A. I'm a fan of concision. I also enjoy writing, sarcasm, and turns of phrase. Twitter provided an outlet that combined all these things in a unique way. Plus, I've wanted to say I was Jean-Luc Picard for a long time.
2. Who is your favorite theologian, past and/or present?
A. Many will identify my choice as merely a musician. Michael Card's writing in musical and book form have been particularly influential for me. His approach to Scripture is refreshing. He engages God's word with the "informed imagination" to make it come alive and applicable while exhibiting an intelligent and accessible writing style. There are many others, but I'm excited when he releases a new book.
3. What's your favourite movie or TV show?
A. I'm going to depart from the obvious choice here. Of course, Star Trek in all its iterations is a favorite; however, Person of Interest is a new favorite television show. It has intelligent writing, exciting plots, and still wrestles with philosophical issues, which is what attracted me to Trek.
4. What is your pet peeve in church or with Christians?
A. This may seem obvious, but my pet peeve is unnecessary inefficiency. All organizations tend to struggle with this, but the church seems to be locked in a constant cycle of fluctuating between what is really a simple call and how it proceeds to accomplish that.
5. Do you like chocolate? If yes, whats your favorite kind?
A. Yes. My favorite form of chocolate is Andes' mints.
6. After a stressful day, what's your favorite way of relaxing?
A. I enjoy two things quite a bit. First, simply taking a walk on a cool crisp day helps me relieve stress. Second, sitting down for an extended period in my favorite coffee shop to read, write, or discuss puts me in quite the good mood regardless of the day.
7. Is the church relevant? If yes, what would you consider the best way to reach the unchurched?
A. Of course church is relevant. It might not be perceived as such, but perception is often reality only to those perceiving. In my opinion, the church is facing the problem of trying to adapt past centuries' practices in the 21st century, while missing the simplicity of the 1st century church. The best way to reach the unchurched is to form relationships with the unchurched in normal everyday life and to prayerfully engage them with the gospel.
8. Is it easier to be who you really are as an Anon?
A. This is a great question. In some ways the answer is yes. It is easier to just put out the lame joke, the striking statement, or the "nerdy" thought when your identity is under wraps. However, the older I get, the less I care what others think and the more I desire to be who I really am, anon or not. I'm only thirty by the way.
9. Why is it important to study theology?
A. It is important to know God. It is important to know God as He is. To the degree that theology helps one know God as He is better and share that with others, it is extremely important.
10. Link us to your go-to song of the moment while driving to Sunday worship—you know, the song that you need/like to hear before you arrive at church?
A. This song reminds me that I'm not a second class worshiper, as I feel sometimes.
https://www.youtube.com/watch?v=H3vwApmk-Z4
11. What is something that people would be surprised to know about you?
A. My sense of humor can be attributed to watching the Simpsons and Conan O'Brien in middle and high school. I'm an odd mixture of silly and serious. I'm very philosophical in nature and have a mediating personality (non unlike Picard). I enjoy seeing the perspective of an opposing view and even defending that view when it is unfairly represented.
Thanks for taking the time to read about an anonymous theological parody and paradox of a man like me.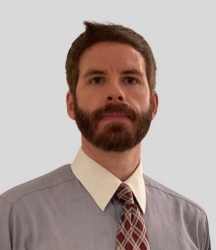 Latest posts by Chris Dunn
(see all)