Distance is a cold reality on paper. It may be colder in matters of the heart, but our perception could be entirely off base. We may be far from religious piety, yet nearer to God than we could ever dream. Our lives may appear morally pristine while our hearts are as far from God as neighboring galaxies.
Pseudo Closeness
Our nearness to God is not a result of our public professions or adhering to the commandments of men (Isaiah 29:13). Jesus quoted the prophet Isaiah in rebuking the Pharisees and scribes for honoring God with their lips while their hearts were far away (Matthew 15:7-9).
The reverse can also be true. The works of our hands may also indicate distance. However, Isaiah and Jesus' words are a reminder and warning of the danger of deceiving ourselves and others with pseudo-closeness. Our actions may give the illusion of closeness to God while our inner selves portray a chasm.
Mistaken Distance
Objects in a side view mirror may be closer than they appear. Our tainted vision blurs our ability to see the nearness of God in Christ. Christ is a better hope and the guarantor of a better covenant through which we draw near God (Hebrews 7:19 and 7:22-25).
We falsely assume that God is far away when we take ownership of our standing before him. There is a mistaken distance that can only be corrected when we embrace the reality that drawing near to God can only be accomplished by faith (Hebrews 11, emphasis on verse 6).
The Paradox of Proximity
The paradox of proximity is that we are never further away from or closer to God than faith in Jesus. If we look to Christ in childlike faith, our sinless, sympathizing High Priest bids us draw near the throne of grace with confidence (Hebrews 4:15-16).
The faraway nearby is a matter of our faulty religious assumptions or our heart's inability to grasp grace. As we grow closer to God, we become more aware of the great divide between us and how only Christ can bridge the gap. When we confess the distance because of sin and look to Christ, we are brought near with the heartfelt longing of the old hymn.
Draw me nearer, nearer, nearer, blessed Lord,
To the cross where Thou hast died;
Draw me nearer, nearer, nearer, blessed Lord,
To Thy precious, bleeding side.
-Fanny Crosby
Whether you feel closer to God than you've ever been or that he is as distant as the stars, look no further than Christ crucified and risen to be assured of your nearness to God. Our prayerful plea to be drawn nearer is always answered by faith in him.
–Photo by Olga Nayda on Unsplash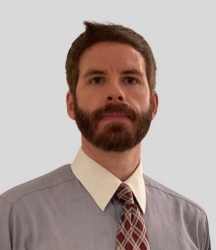 Latest posts by Chris Dunn
(see all)