Safe.
I'm safe today. I am at ease, playing with my children. I'm laughing, smiling, and can think of my flashbacks without a sense of overwhelming dread, apathy, or despair. I drink in their giggles, smiles, and squeals. They are like balm to my aching heart. I'm safe enough today to explain my recent valley. These have been two of the hardest weeks of my adult life.
How do you explain to the world the feeling of being trapped in your own mind? That a moment in time, frozen and buried deep in your brain, momentarily paralyzes you? You can't just "move on." You can't offer advice for the next time it happens, or what causes those memories to resurface. They come out of nowhere. How can I control a trigger when it comes during a mundane task unrelated to the event?
That memory takes me captive. It replays over and over, the horror show of a little girl being forced into performing sexual acts on another person. I can't describe my memories without painting a disgusting image in another person's brain. When that moment comes back, I can't run. I can't hide. I may be able to mentally detach myself and operate on autopilot to tend to my little family's basic needs.
How do you ask for help when you feel like there is no help to be found? You can't remove my memories. I can't control when they come. I'm trapped. I'm alone. After the panic and tears, apathy and detachment are my companions. I don't want to face anyone, because I hate making them feel helpless. I hate feeling helpless. I want to help myself. How do I even start to open up my heart to you? If I explain to you every dark thought I have as I fly down the rabbit hole after Alice, you couldn't handle them. I can't handle them, even on my good days. In those dark moments, God isn't real to me.
However, God is very real. On the good days, I see my beautiful family. I am often told I am a blessed woman. I wasn't always so blessed.
Today, I am safe, but when will I be free?
I can't do this on my own. I asked my husband for help. I asked my pastor for help. I'll tell you that story next. Until then, I need your help. Pray for me. Supermommy isn't a hero. I'm a mother desperately clinging to God, begging him to preserve my children's emotional state while I face my past. Pray for my husband, as he tries so hard to understand. Pray he is supernaturally enabled to love me through this, even though I think he is doing an excellent job. Coulson tends to disagree, but encourage him and remind him of the Holy Spirit advocating on our behalf. Remind me of this as well.
Romans 8:26 (ESV): Likewise the Spirit helps us in our weakness. For we do not know what to pray for as we ought, but the Spirit himself intercedes for us with groanings too deep for words.
What a comfort to know that in the times I can barely speak, the indwelling Holy Spirit pleads on my behalf before the throne of grace.
________
Photo by Nadia Hatoum via Flickr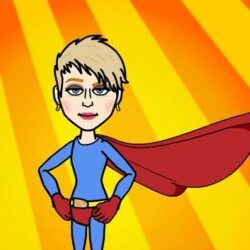 Latest posts by Calvinist Supermommy
(see all)