Have you ever experienced what looks like God's guidance?
Anyone who's ever experienced a clear-cut case of it will tell more or less the same story: "It was done in such a way that I couldn't possibly have missed the point! The whole experience looked like it was designed to point to God, to give credit entirely to him and none to me, and to tell me that my life really is of interest to my Creator."
Through such events we learn that God likes to guide his children, and that he has an infinite number of interesting ideas in providing that guidance. In the way parents love to surprise their children, he seems to love to create the unexpected, so that we'll rely more and more upon him and less and less upon "general principles" about guidance.
We like to write books on "The Three Steps," "The Four Principles," and "The Five Rules" of God's guidance, but just when we think we've discovered a formula of how he works, he goes the other way and does something entirely different. We learn that he doesn't want to give us a formula at all (and so leave him behind), but to give us himself.
It means this: God wants to be our guide, not to give us a roadmap. He wants us to trust him, not some set of rules. And it's just at this point where we part ways with religion and live life by faith. Religion gives us rules, principles, rites, rituals, incantations, customs, laws, and on and on, but faith gives us someone to trust and love—a close connection with our heavenly father.
So to keep us from falling into just another religion of do's and don'ts (we have enough of those), and to keep us in a living relationship, God constructs new and unexpected (and often humorous) ways of leading us from point A to point B.
I strongly encourage everyone I meet to read the New Testament account of Paul's "visit" to the island of Malta because it serves as a model of how God so often leads us. On the surface of it, Paul and his entourage were just blown off course by a sea storm and driven onto a small, insignificant island. But as we read on, we discover that in this unscheduled stop Paul had a divine appointment with some very specific people God had in mind from the very beginning. It didn't even look like guidance at all to many of those involved, but it turned out to be the clearest possible involvement of God in the midst of great danger and adversity.
And it's in our long years of study at Adversity University where we learn some of our best life-lessons. Most of them will not occur on our favorite lounge chair or leather couch. We shouldn't be surprised to find that God's guidance will often be most obvious and dramatic during life's storms, battles, reversals, losses, sorrows, and shipwrecks. Sometimes we find ourselves in a particular place just because our ship sank and we washed up on the beach, dazed and soaking wet.
One of the things our family has learned over the years in ministry and foreign missions, much travel, frequent moving, dangerous situations, and opposition of all sorts and on all sides, is this: some of the worst things that have happened to us have turned out to be some of the best things that have ever happened to us.
And often when we were in the midst of it all we thought that nothing worse could have taken place, that God seemed to have abandoned us, that he didn't care about us, and nothing made any sense at all. We complained long and hard about "shock fatigue" or the rotten set of circumstances he had given us, and we tried to persuade him that if he really were a loving heavenly Father then he wouldn't have done this or that. But in the end we finally got the point that he actually knows what he's doing and that he alone is in charge of the world and we aren't. That's a very important graduation day.
The more we think about the many creative and unpredictable ways he guides us, the more we come to love and enjoy his character and to be dazzled by him.
Our God is an awesome God!
_____
Photo by Bob ~ Barely Time via Flickr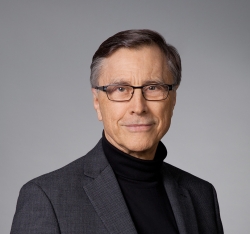 Latest posts by John I. Snyder
(see all)