But he was pierced for our transgressions, he was crushed for our iniquities; the punishment that brought us peace was upon him, and by his wounds we are healed. We all, like sheep, have gone astray, each of us has turned to his own way; and the Lord has laid on him the iniquity of us all.
-Isaiah 53:5–6
Our human minds can't even begin to grasp the enormity of the price Jesus paid for us on the cross. If we did, our hearts would ache knowing of his supreme sacrifice on our behalf and love for us.
Although we don't know exactly whom the prophet Isaiah was referring to in his own day, this passage was very early applied to Jesus. The church recognized that it perfectly (and prophetically) described his mission on our behalf—he's the one who bore the full weight of our sins and folly, he is the one who paid for our transgressions, and he is the only reason we are healed of our alienation from God.
How can someone else take upon himself the punishment due for our crimes against God and his holiness? We don't really know how this all works. We're told only that this is what happened. God could have rescued us in some other way, but this is the way he chose, carefully planned, and carried out. And there was nothing irrational or arbitrary about it.
Figure it this way: Jesus came into the world in perfect holiness and sinlessness. He led the perfect human life without the slightest flaw. Then, like the prophets of the Old Testament, he was persecuted and killed for telling people the unpleasant truth about themselves. In their rage, they murdered him.
But in a way, God said of all this, "Alright, since in your misguided religious fervor you insist on violence and murder of everyone I send to you, and now even my beloved Son, then I'll decree this act of murder, the lowest point to which you can sink, to be the very thing that saves you."
In other words, God says to us that it's not our righteousness, goodness, or religious performance that leads us to his kingdom, but his total mercy and grace. If he used the raw material of our sin and turned it into the building blocks of our salvation, then there isn't the slightest ground for claiming that we control (or in any way deserve) our salvation. It's his work from beginning to end and has nothing to do with us, except for each one of us to reach out and receive from his hand the gift he offers.
How much clearer could he make it that he alone is the Author of our salvation? In this act of God lies our total security.
Today's Prayer
Lord Jesus, thank you for giving your life for me and for paying the price for my sins that I could never pay. I pray that just as you lived and died for me, I may live and die for others. Help me, O Lord. Amen.
Today's Commitment
Today I thank God for…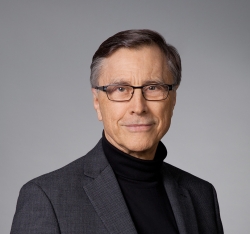 Latest posts by John I. Snyder
(see all)