Let us fix our eyes on Jesus, the author and perfecter of our faith, who for the joy set before him endured the cross, scorning its shame, and sat down at the right hand of the throne of God.

–Hebrews 12:2
If Jesus did for us what we couldn't possibly do for ourselves, what keeps us from fixing our eyes on him and keeping them fixed where they belong? As believers through the centuries have discovered, the problems arise when we take our eyes off Jesus and fix them on someone or something else—some theologian, philosopher, a political ideology, a religious movement, even ourselves.
It's always going to be true: Jesus is the author of our faith and it's he who will bring it to perfection (or completion). He endured the shame and agony of the cross for us, in our place, taking upon himself the punishment for our sins and rebellion so that we never have to experience it.
For the believer in Jesus, the final judgment for sin is past. It's a done deal.
The author of Hebrews isn't just trying to tell us what Jesus did, as if it's merely a classroom lecture on theology. He wants us to contemplate what Jesus did, then to emulate it in our struggles with sin, temptation, and suffering.
With God's help, Jesus endured the terrible time of crucifixion because of the exceedingly great joy set before him—the resurrection from the dead, the total vindication of his ministry, and the glorious position as the risen Lord.
Remember, Jesus came to live the perfect human life, to do what the first humans failed to do and fulfill the divinely appointed human job description.
He became the pioneer who beat a path through the jungle for us, so that we can follow him not only through the suffering of this present life, but out of the grave and through the great doorway into unending life and joy.
In your prayers, as you wait upon God for deliverance, rescue, healing, vindication, or whatever it is that's filling up the screen of your life right now, remember that just as Jesus (who suffered far more than we ever do) was ushered into eternal joy and permanent glory, so he intends to share it all with us. Whatever we lose in this life is regained a hundredfold in the next.
Today's Prayer
Lord Jesus, thank you that you are the author and finisher of my life in faith. I am trusting that you will bring to completion what you have started, in your name, I pray. Amen.
Today's Commitment
Today I fix my eyes on Jesus to…
Photo via Flickr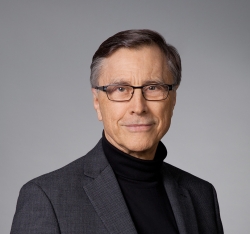 Latest posts by John I. Snyder
(see all)