Starving to Death
"For to be carnally minded is death; but to be spiritually minded is life and peace." – Romans 8:6
What's amazing to me is that every single time my mind starts to turn towards the things of this world, I feel like I'm rotting and dying inside.
Like I'm starving to death for something spiritual.
Does anyone else get that?
For instance: Today, when my mind is set on politics, current events, world news, and the like, I feel like those things suck the life right out of me.
The crazy thing is, instead of avoiding such things, I try to feed myself even more of it, trying to satisfy it. Discussions, debates, and arguments—the poison I've ingested, I've now shared with others. Not only is it killing me, but it's now killing them.
Folks, this is one of the reasons why we need the Gospel of Jesus the Christ. This is one of the reasons why we need the Christ's cross, his death, his burial, and his resurrection.
"Finally, brethren, whatsoever things are true, whatsoever things are honest, whatsoever things are just, whatsoever things are pure, whatsoever things are lovely, whatsoever things are of good report; if there be any virtue, and if there be any praise, think on these things." – Philippians 4:8
Think on These Things
So think on these things—whatever keeps you "looking upward," heavenward. Keep from looking down, head bowed to the earth, towards everything in this world that is destructive to your spiritual, emotional, mental, and physical health.
Instead, think about the Bible. Think about Scripture. Think about praying—for others and yourself. Think about that message you heard on Sunday morning. Think about the words to your favorite hymn.
Think about praise. Think about God's righteousness, his holiness, his sovereignty.
Clap your hands, all peoples!
Shout to God with loud songs of joy!
For the Lord, the Most High, is to be feared,
a great king over all the earth.
God reigns over the nations;
God sits on his holy throne.
The princes of the peoples gather
as the people of the God of Abraham.
For the shields of the earth belong to God;
he is highly exalted! -Psalm 47:1,8-9
Think about all those times he's been there for you, for your family. Think about the prayers he's answered.
Think about all those times when you didn't think to pray and he protected you, anyway.
Think about all of the times he's disciplined you and corrected you. Think about all the times God treated you like a son/daughter and not a bastard.
Furthermore we have had fathers of our flesh which corrected us, and we gave them reverence: shall we not much rather be in subjection unto the Father of spirits, and live? For they verily for a few days chastened us after their own pleasure; but he for our profit, that we might be partakers of his holiness. -Hebrews 12:9-10
Think about how he wants you to partake in his holiness.
Think about what God is calling you and commanding you to do—loving your neighbor, loving your coworker. Loving an enemy.
Think about the Great Commission and how you can take part of that.
Think about missions or becoming a missionary.
Think about what is God's will for your life…his perfect, good will.
There are so many things that we can pray about and be spiritually minded about. Things that truly do life and peace, not only to us, but to those around us.
Why would you want to spend so much time thinking on things of the flesh? Things that suck the life out of you and lead only towards death?
Renew Your Mind
Today, tonight, or whenever you're reading this, think on this: If you feel like all of these carnal thoughts are sucking the life out if you then change your mind!
Therefore, I urge you, brothers and sisters, in view of God's mercy, to offer your bodies as a living sacrifice, holy and pleasing to God—this is your true and proper worship. Do not conform to the pattern of this world, but be transformed by the renewing of your mind. Then you will be able to test and approve what God's will is—his good, pleasing and perfect will. -Romans 12:1-2
Ask God to help you think spiritually.
Life and peace will follow. God promises us that.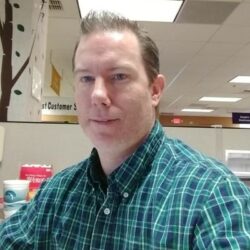 Latest posts by Eric Johnson
(see all)