Growing up in the dueling fronts of an alcoholic home and a well-meaning fundamentalist church created the perfect storm for me to adopt what might be referred to as civilized Christianity. Civilized Christianity is a religion of pristine lives. As I remember my past, empathize with where others are, contemplate where the church is, and meditate on where the Gospel takes us, I'm encouraged that Christ came for the civilized and uncivilized alike. He did so in the way that most offends our civilized sensibilities.
Where I Come From
My childhood was blessed in many ways and challenging in others. Shouting, profanity, and staggering alcoholics were the opposite of my church's moralistic spirituality, yet both were responsible for my formation.
Growing up in a fundamentalist church while simultaneously living in a dysfunctional home gave structure to chaos but also imposed legalism instead of grace. That legalistic bent still haunts the corridors of my heart. When I think the Gospel has utterly gripped me, the nagging thought that I could be gripped "better" rears its persistent head.
Where I come from, having a good heart was what merited being right with God (home), yet true Christians would never dare to listen to secular music (church). Where I come from, beer was the beverage of choice despite its causing conflict (home), yet good Christians wouldn't eat at restaurants that served alcohol (church).
Where I come from now, grace tastes so sweet sometimes it's unbelievable. Yet too often, I prefer to pretend that my works are sweeter still. Some days the Gospel is so tangible I can sincerely shout Maranatha (Come, Lord)! Other days the Gospel seems as distant as the stars to my western mind and sinful heart.
This distance is why we constantly need to hear the Gospel, partake in the Lord's Supper, and confess and receive absolution. This is the value of professing our faith corporately. Where I come from now, "Lord I believe, help my unbelief" is a perpetual prayer.
Where You Are
God's love for you is steadfast. When you are at your best, he loves you despite your pseudo righteousness. When you are at your worst, he loves you despite your glaring failures. His love for you is based upon his only-begotten Son and his atoning sacrifice on your behalf.
Rich Mullins once remarked in a concert, "God takes the junk of our lives and makes the greatest art in the world out of it. And if He was cultured, if He was as civilized as most Christian people wish He was, He would be useless to Christianity."
Perhaps you find yourself feeling that God cannot love you where you are. Not with your failures. Maybe you find yourself feeling that God's love is the due reward for how you've gotten your act together. The Gospel obliterates those false notions, takes us as we are, and accepts us entirely apart from our works, good or bad.
Where the Church Is
Too often, the church preaches a Gospel of coming as you are out of one side of their mouth while preaching a false gospel of reforming your behavior to earn your salvation out of the other. While affirming orthodoxy, they are blinded to the unorthodox nature of their orthopraxy.
The church is torn between relevance and supernatural transformation. It finds itself with one foot in the world of marketing and the other foot in the world of caring for souls. One part is pragmatic philosophy, and the other is actual theology. Are we selling a lifestyle or offering salvation?
The bride of Christ is obsessed with behavior modification and has become adept at reframing it as spiritual formation. We grimace at curse words but accept lacking the ability to articulate the Gospel. Is it more important to avoid uncivilized speech or to understand the very foundation of Christianity? We glare at the smoker with tattoos and reserve a place of honor for the blazer adorned, well-spoken business owner. One of these things is just like the other: a struggling sinner.
Where the church finds itself is not new. Moral reform has always been a part of sweeping movements in Christianity. The tendency to drift from the Gospel is apparent today as we trade a pronouncement of forgiveness and redemption for improving lives. Churches become community event hubs, and we relegate evangelism to marketing the Christian way of life.
When the church does its job well, the cry of our hearts and mouths to help our unbelief is a prayer that is answered through the natural rhythm of the church's ministry. When the church finds itself drifting toward life improvement, we can find ourselves listless on the sea of achievement. Christ crucified on our behalf is a lighthouse leading us home.
Where the Gospel Takes Us
The Gospel takes us where we don't want to go. We don't want to admit we're totally depraved. We don't want to believe that we're incapable of becoming good enough to warrant God's favor. We don't want to accept that we constantly lapse into karma.
The Gospel takes us into forgiveness so rich and free it offends our sensible egos. We think, "How dare God show our enemies the same mercy He showed us!" Our minds wonder how a fair God can grant spiritual dawdlers the same benefits as the steadfast and faithful (Matthew 20:1-16).
The Gospel takes us underneath a grace so lavish we struggle to believe it's true. How can God continuously go after the lost sheep? How can the Father accept the prodigal so easily and celebrate his return so extravagantly? How can the righteous Son of God associate with sinners?
The good news of Christ crucified and resurrected for sinners leads us to meritless acceptance based on unwarranted, steadfast love. Our right standing with the Father on the basis of the Son alone stands despite failures of all kinds.
The trouble with civilized Christianity is that inevitably Christ is deemed uncivil. Did God really pour out his wrath on his Son as an atoning sacrifice? Yes! Are we supposed to believe that Jesus Christ was fully man, born of a virgin, fully God, died on a cross, and was raised three days later? Yes! Neither of those answers syncs with our culture's estimation of an acceptable religion. Civilized Christianity may be slightly more palatable to unbelievers or posh religious types, but it's not Christianity at all.
Photo by Debby Hudson on Unsplash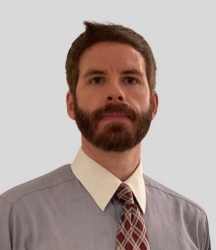 Latest posts by Chris Dunn
(see all)