There are THOSE days. You've had them. The days when you felt as if the world was closing in on you. The days when you thought, "if one more problem comes my way, I'm gonna scream." The days when you just wanted to hide. I've had several of those, lately.
Ugh!
Take a look at this picture. See the little kitten in the drain? He was hiding away from civilization, but he still saw everything that was going on. If we got near the drain, he ran away.
Recently I thought, "Excuse me.  I plan on sticking my head between the mattress and the box spring and staying there till I want to return to civilization. And that might be a while." Life is difficult, and that is why I needed an escape.
My Friday started okay, but within three hours, I had four big issues to handle. None of them were expected. None of them were easy. ALL of them stressed me to the point of tears. I had to stop. I had to breathe. I had to remember, "God knew this would happen. He is not surprised. He is still with me." I know all this. I remind people of this everyday, but it seems easy for me to forget this when stressful events enter my world.
What is the point?
We all need that place in the world where we can hide. We don't need to totally escape. We still need to be in touch with civilization like the little kitten in the picture. However, we need to be able to turn away, find relief. Reboot our system.  Fill our souls. Get ready for the day.  Write me with your favorite way to escape – [email protected].
Hope that gives you Something to Ponder.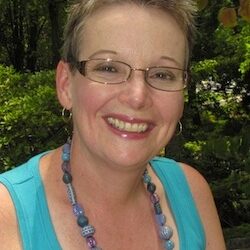 Latest posts by Carol Howell
(see all)