Most of life I don't understand. Just when I think I have life figured out, I am reminded that I DON'T. God did not give us all of life's answers when we were born. He does not show us the future. He did promise to always be with us.
I was reminded…
It was time to clean out desk drawers at my office. It is crazy how easy it is to collect junk. In the process of cleaning, I came across this piece of paper. "How can we possibly pay for college?" was written across the top, and the answer followed. "Now to him who is able to do far more abundantly beyond all that we ask or think, according to the power that works within us, to him be glory in the church and in Christ Jesus to all generations forever and ever. Amen!" (Ephesians 3:20-21 for those of you wanting to know).
I had a tear in my eye as I recalled writing this. My daughter reminded me that the note was on the refrigerator for a few years. I truly believe (because I have lived it repeatedly) that there is nothing in my life that is not under God's control. He was not shocked that day in October of 2006 when Momma was diagnosed with dementia. He did NOT stand in confusion and wonder what to do next. No, he knew life would be more challenging for us, but he also knew he had a plan for everything. Momma's diagnosis of dementia was part of a process that he was and is using to bring about his good plan. That makes me happy!
Back to the note on the frig. I hope you are wondering how we paid for college. This was a challenge in our world because my husband lost his high paying professional job due to a traumatic closed head injury. All our plans went straight out the window that day, and our finances suffered. God had a college plan for our daughter, and that plan was a full scholarship!
God has a plan for our family as we caregive for Momma.
God has a plan for Momma as she lives with dementia.
God has a plan for YOU?
How do I know this? Because he woke you up this morning. There is work to be done, and it is time to get busy.
Hope that gives you Something To Ponder.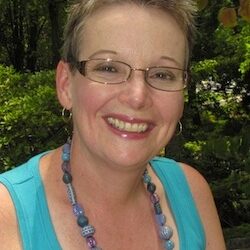 Latest posts by Carol Howell
(see all)