By ABC News (Winter Haven, Fla., Aug. 7, 2000)
Henry George Anhalt had never flown a plane before Sunday. But when the pilot of the small plane carrying him and his family collapsed at the controls, he had to learn — and quick.
Anhalt, his wife and their three sons were on a private flight home from a religious mission in the Bahamas when their pilot, Kristopher Pearce, 36, collapsed. He was later pronounced dead at a hospital.
To make matters worse, the small aircraft was running out of fuel.
"When I tried to switch it over to the other tank, it would start sputtering and sputtering so I would change it back to the empty one," said Anhalt.
A Cry for Help
Ten minutes out of Florida's Winter Haven airport and 1,000 feet in the air, Anhalt did just about the only thing he could: radio for help.
As luck would have it, a flight instructor was flying nearby.
"When you hear the fellow screaming on the radio mayday, mayday, it's the call you never want to hear," says Rob Garcia, who was taking lessons nearby from part-time flight instructor Dan McCullough.
The plane, a Piper Cherokee 6, is considered a high-performance aircraft that requires advanced training to fly. But McCullough says talking him down was no problem.
"The only real disadvantage I had over any other time I've done it is I couldn't actually be in the airplane with him," he said. Anhalt, he added, did not seem frightened.
"I told him great job, that was his first flight lesson, he needed to find a log book and I'd sign him off on his solo," said McCullough.
Coming In for a Landing
While Anhalt, 33, practiced controlling the aircraft, his wife, Becky, also 33; and sons Jeremiah, 11; Jacob, 7; and Joseph, 2, were buckled up in the passenger seats behind him.
"I just gave him directions how to get it over the runway and then to cut the engine," McCullough said. "I had to keep him level. If he came in too steep, he'd dive into the ground. If he came in too far back, he'd stall."
Thirty minutes after taking the controls, Anhalt landed safely, although witnesses say it wasn't a pretty sight.
The Piper hit the runway hard, bounced, took a sharp turn, and crossed a grassy median before coming to rest in a ditch nearby. Anhalt says he may take up flying lessons someday. But for now, he's happy enough to be on the ground.
At the time of writing, the cause of Pearce's death was not known.
_______________
So what's the lesson?
Like the Anhalt family, the disciples suddenly found themselves in a position where the person they had been relying on was gone. They were out of their depth, they didn't know the way forward, and they desperately needed outside help if they were going to survive.
Unlike the unfortunate pilot, Jesus had not only warned the disciples that he was going to be leaving them, but that he would send someone in his place—the Counselor, the Advocate, the Helper. But it's a bit like being told, "Everything's going to be alright: a little blue man is going to come and lead you." Being told and believing were two very different things. It had been ten days since Jesus had ascended. Where was this helper?
So who is the Holy Spirit, what does he do and whom does he work with?
Picture of God
How does the Holy Spirit fit in with the rest of God? Consider this: What happens if you stand outside on a day when there are no clouds? It's bright and you get warm. God the Father is a bit like the sun; a physical presence with gravity, Jesus like the light; he helps us to see, and the Holy Spirit is like the warmth. You can't separate them, they're all part of the sun, yet they have different effects.
That's the "Who." He is part of the Trinity, equally God with the Father and the Son, but different in role. He was there at creation, appears several times in the Old Testament, but what his job is doesn't really become clear until after the cross.
Purpose
The purpose of the Holy Spirit is always to bring us back to Jesus. For the disciples, it was to complete the mission that Jesus gave them, and it's the same for us. But how does the Holy Spirit do this?
Let's take a look at what the Bible tells us about what the Holy Spirit does.
What does the Holy Spirit Do?
When I was doing my research for this message, I found a website that listed 70 things that the Holy Spirit does in our lives. I want to look briefly at 9 of these.
1. Seal
Do you remember how they used to close envelopes before they had glue? They used to melt wax and then stamp a mark in it. For kings, that mark was often on a ring or the royal seal. It would be stamped into the wax and the envelope would be closed and the person receiving it would know that this was from the king.
Memory Verse: Ephesians 1:13,14
"…When you believed, you were marked in him with a seal, the promised Holy Spirit, who is a deposit guaranteeing our inheritance until the redemption of those who are God's possession…"
2. Prays for, and with, us
Do you find it easy to pray? Sometimes, the things we pray for are so big that we really don't know how to pray for them. The good news is that the Holy Spirit does!
Memory Verse: Romans 8:26-28
"…If we don't know how or what to pray, it doesn't matter. He does our praying in and for us, making prayer out of our wordless sighs, our aching groans. He knows us far better than we know ourselves…"
3. Helps us Understand the Bible
A friend of a friend recently said this: "Without the Holy Spirit, reading the Bible is like eating dry biscuits in the desert. With the Holy Spirit, it is steak for the soul and hummus for the heart." One of the things that I noticed when I became a Christian, 31 years ago during my first year at university, was that the Bible suddenly started making sense, and I felt that it was written to me and for me. Things that before seemed very dry and theoretical or hypothetical were very real and applicable.
Memory Verse: 1 Corinthians 2:12-14
"What we have received is not the spirit of the world, but the Spirit who is from God, so that we may understand what God has freely given us. This is what we speak, not in words taught us by human wisdom but in words taught by the Spirit, explaining spiritual realities with Spirit-taught words. The person without the Spirit does not accept the things that come from the Spirit of God but considers them foolishness, and cannot understand them because they are discerned only through the Spirit."
4. Helps Us to Know What to Say
In Luke 12, Jesus warns the disciples that they would be rounded up by the religious police for following him. If they spoke out for him, they would get into trouble with the Jewish church. And then he told them not to worry too much about what to say if they were arrested.
Memory Verse: Luke 12:11-12
"When they drag you into their meeting places, or into police courts and before judges, don't worry about defending yourselves—what you'll say or how you'll say it. The right words will be there. The Holy Spirit will give you the right words when the time comes."
Don't worry what will happen if you speak out for God in love. God will help you know what to say if you get into trouble for it.
5. Fertiliser
If you want fruit to grow well, you have to help it a little. As well as water and soil, a lot of plants need a little bit extra; usually some minerals or compost that you put on the ground for the tree or plant to take up through its roots. The apostle Paul tells us that if we commit our lives to pleasing God, the Holy Spirit will do some amazing things in our lives. He is a spiritual fertiliser and will produce God's fruit in us. Our job is to make sure we don't stray from the field. He will do the rest.
Memory Verse: Galatians 5:22-23
"But the fruit of the Spirit is love, joy, peace, forbearance, kindness, goodness, faithfulness, gentleness and self-control. Against such things there is no law."
6. Helps Us to Know When We are Wrong
Another thing I noticed when I became a Christian was I suddenly had a much better understanding of what things in my life were good and what things displeased God. Human beings have what we call a conscience, a little voice inside us that helps us to know if something is right or wrong. The Holy Spirit comes alongside our conscience and corrects it, because it's not always right, and makes it stronger.
Memory Verse: John 16:8
"And when he comes, he will convict the world concerning sin and righteousness and judgment."
One thing that is important is that we don't ignore the Holy Spirit. If we keep doing that, after a while, he stops speaking to our conscience—we stop hearing him. Sadly, I've found out more than once over the years, once we stop hearing the Holy Spirit, it can be a long struggle to make ourselves sensitive to him again.
7. Helps us to be Bold
Do you sometimes struggle with the courage to stand up for God in public or with friends and say or do something that we feel (or even know) we should or shouldn't? If we let him, the Holy Spirit helps us here too:
Memory Verse: 2 Timothy 1:7
"For the Spirit that God has given us does not make us timid; instead, his Spirit fills us with power, love, and self-control."
There are a couple of other things that the Holy Spirit does in there, too? Did you notice? He fills us with power, love, and self-control!
8. Counselor
When Jesus told his disciples that he was going to send them the Holy Spirit to look after them once he was gone, he didn't call him the "Holy Spirit," he referred to him as the "Parakletos"—not parakeet, that's a sort of bird. The Paraklete. Now, unfortunately, there's not a direct English equivalent of Paraklete. Different Bible translations have translated the Greek word in various ways: Friend, Counselor or Advisor, Advocate, Comforter. The important point is that all these are functions of the Paraklete, so where the disciples got one word, we get five or more.
There is one Bible translation that tries to put all of the translations in; it's called the Amplified version, and here's what it says about John 14:16:
Memory Verse: John 14:16
And I will ask the Father, and He will give you another Comforter (Counselor, Helper, Intercessor, Advocate, Strengthener, and Standby), that He may remain with you forever—
Summary
So the roles of the Holy Spirit include: Promise, Intercessor, Interpreter, Prompter, Fertiliser, Conscience, Enabler and Counselor. In all of this, his role is to help us be the people that God wants us to be and to carry out the job that God set us apart for.
But like the air-traffic controller who talked Henry Anhalt through landing that plane, the Spirit only ever guides us and never forces us. If we want his help, we have not only to switch on the radio, by which I mean listen to the promptings of the Spirit, but we actually have to do what he suggests. It also means that we have to let go of the send button every now and then, and switch to receive mode. We're not puppets under the Holy Spirit's control, we're willing servants.
Essentially he does for us the things that Jesus did for his disciples, but he's not physically limited as Jesus was. He teaches us, protects us, prays with us, explains things to us, motivates us, just as Jesus promised he would.
Who is the Holy Spirit for?
Did you notice who the Holy Spirit is given to back when we were talking about the "Seal?" Take another look at the passage:
Memory Verse: Ephesians 1:13, 14
"…When you believed, you were marked in him with a seal, the promised Holy Spirit, who is a deposit guaranteeing our inheritance until the redemption of those who are God's possession…"
When we first trust in Jesus, we're given the Holy Spirit, it's part of the package. There aren't two classes of Christians, one having just Jesus and one having Jesus and the Holy Spirit. We all have both.
Paul describes believers as living temples of the Holy Spirit in 1 Corinthians 6. Now this is significant. In Jewish religion, there was only one temple, and that was in Jerusalem—the dwelling place of God's presence on earth. Now the apostle Paul is saying that we're all mini-mobile temples. In the Old Testament, the world had to go to Jerusalem to meet with God on earth. Now, God makes us mini-mobile temples to go out to meet the world.
Not Yet a Believer?
If you're reading all this and not sure yet where you stand with God, that's okay. We've all been in that position, on the outside looking in. I was in that situation in my room at university in my first year. I'd spent all my teenage years attending church, but never clearly hearing the Gospel, never understanding that Jesus died on the cross so that my sins could be forgiven.
If you're in that position right now and have come to the point where you're tired of being on the outside and you want to enter into this wonderful relationship with God, it's a matter of telling him, "Thank you, Sorry, Please."
Prayer:
Lord Jesus Christ, thank you for dying for me on the cross. I'm sorry for the things in my life that have been wrong. I now turn away from everything that I know is wrong. And I now receive your gift of forgiveness.
I put my trust in what you did on the cross for me. And I ask you, please, to come and fill me with your Holy Spirit, to give me the strength to lead the kind of life that deep down I'm longing to lead. Thank you, Lord Jesus. Amen.
_______________
May the God of hope fill you with all joy and peace as you trust in him, so that you may overflow with hope by the power of the Holy Spirit. -Romans 15:13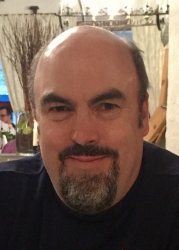 Latest posts by Mike Page
(see all)