We are in the midst of international unrest, national disaster, and division on every side. We don't need theologizing, but we do need good theology. We need lamentation, not explanation. The church must get back to weeping with those who weep rather than offering theologically sketchy clichés. Lest this devolve into just another example of the latter, let us turn our hearts and minds to the former.
A Meditation
Psalm 46:1-7
God is our refuge and strength,
    a very present help in trouble.
Therefore we will not fear though the earth gives way,
    though the mountains be moved into the heart of the sea,
though its waters roar and foam,
    though the mountains tremble at its swelling. Selah
There is a river whose streams make glad the city of God,
    the holy habitation of the Most High.
God is in the midst of her; she shall not be moved;
    God will help her when morning dawns.
The nations rage, the kingdoms totter;
    he utters his voice, the earth melts.
The Lord of hosts is with us;
    the God of Jacob is our fortress. Selah
The presence of God is twice emphasized in the passage despite the trouble, trembling or tottering of our surroundings, lives, or kingdoms. He is "a very present help" and "The Lord of hosts is with us." This can be difficult to see in the midst of the Earth giving way and the nations raging. Nonetheless, we bring this precious truth to mind until our present circumstances fade into the background and his presence shifts to the foreground. This is not an immediate transition, but rather one that requires personal honesty, contemplation, questioning, remembering the truth, and prayer. It requires lament. As we face the difficulties that come our way or reach out to those facing such difficulties, we must remember that the key truth to be pressed upon the heart is not merely theological precision, but divine proximity. He is with us.
A Prayer
Lord, the wind and the waves obeyed you, yet they have engulfed us. Do they still ebb and flow at your command? Those in our world seem as far apart as the stars. Will you leave us so divided? Your steadfast love endures forever and extends deeper than the ocean, but our weary eyes cannot see your love as clearly now. Wipe the tears in your time, Oh Lord, so that we can see you again. Our faith is as shaken as our battered lives and minds. Yet your steadfast love grants hope and anchors us in this turbulence. Grant us deeper faith and shine the light of your presence on those suffering. In the name of the suffering servant, Jesus Christ, we pray. Amen.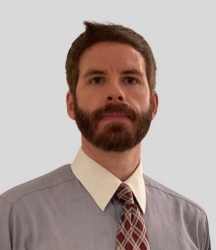 Latest posts by Chris Dunn
(see all)