Even as we celebrate this season of thanksgiving with gratitude for God's blessings, yet 2017 has been a challenging year—possibly even the toughest one for many of us, maybe even you.
Perhaps your lab test results came in positive, or you lost your job—you've worked hard to find something else and there isn't any other employment opportunity in sight. Or you're looking at your empty bank account, your creditors keep calling, your investments didn't turn out the way you expected, your family or marriage is falling apart, loved ones are dying—you just don't know how you're going to make it through another day, let alone another hour.
If you think your situation is utterly impossible and beyond solution, then consider what the apostle Paul says in Romans 15:13:
May the God of hope fill you with all joy and peace as you trust in him, so that you may overflow with hope by the power of the Holy Spirit.
Have you ever overflowed with hope? We all know what it's like to overflow with despair, disillusionment, or discouragement, but how many know what it's like to be bursting with hope, peace, and joy?
You're not feeling any joy or peace. And Paul talks about "overflow with hope?" Forget it.
I hear you and can relate to what you're feeling. We have all been (or are) there. But remember, "hope" in the Bible bears no relation to the way the world commonly uses it. It doesn't mean "I hope so," but rather "I'm confident that…" It's connected to the character of God who is always reliable and who never loses his focus. If we're speaking of what God promises us, then we are on the most solid ground on earth. Also, there is no real hope in this life or the next outside God and his purposes. Everything else is just wishful thinking. That's the first thing we need to know about hope.
Secondly, our God is capable of filling us with peace and joy. The Old Testament calls it "Shalom," a complete sense of well-being of both the spiritual and the physical, something found only in God's will. We find that we are generally healthier when filled with peace and joy, a unique state of mind found only among those who love and serve the only true God. And we discover that we get sick in the absence of peace and joy. This gives us some indication of our design, how we're wired. We're meant for such a life and not for any other.
Thirdly, this peace and joy come only as we trust in God—this is the difficult part. We are called to trust in him. He imparts his peace and joy to us as we lean on him and find him totally sufficient for our needs (and many of our wants). This is what it means to have faith in God, to trust in him.
Fourthly, the result of this faith is that we may overflow with hope. It's not even a possibility outside the gift of God's presence with us. And that's the critical, important point: all this occurs by the power of the Holy Spirit. The message of Jesus to us is not, "Please try harder, get better, and I'll do great things for you," but rather, "Lean wholly on me and my Father in your weakness and we'll make the impossible happen for you." God loves to do the impossible when we see no way out. It's the greatest power in the universe. By it Jesus turned water into wine, calmed the storm, and raised the dead.
Still feeling no hope? Remember what Jesus said to all who follow him:
So I say to you: Ask and it will be given to you; seek and you will find; knock and the door will be opened to you. For everyone who asks receives; he who seeks finds; and to him who knocks, the door will be opened. -Luke 11:9-10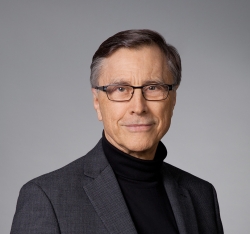 Latest posts by John I. Snyder
(see all)