There is a spiritual famine in the land and perhaps in our hearts. It goes undetected mainly because of the pervasiveness of religion. There is a difference between religion being so widely available and consistently proclaiming Christ. What contributes to this famished state?
Starved by Activity
Inundated with options could be a tagline for our age. Television, podcasts, audiobooks, athletics, video games, and a hundred other distractions vie for our attention and perhaps even commitment. Even limited to the church, we can find ourselves overcommitted to calendars. Like children at Thanksgiving, our spiritual eyes are bigger than our spiritual stomachs. Is more always better?
Community groups, book reading clubs, Sunday school classes, outreach events, bake sales, and other volunteer opportunities exist for our participation. None of those things are inherently bad, but they cannot nourish our souls alone. Moreover, they may distract us from the actual state of our hearts. Who has time to think about faith in Christ with so much to read, prepare, and do? It's a matter of order and priority. First comes faith, then comes the overflow of faith into opportunities to serve and grow.
Biblical Illiteracy
MacInnis (2022) highlighted the precipitous decline of 26 million Americans in regular bible reading from last year to this year in the state of the Bible report. It's undeniable that culture and the church are suffering from biblical illiteracy. However, increasing general knowledge about Scripture will not address the underlying problem. Publishing houses, para-church organizations, podcast networks, and Christian education all provide avenues for taking in Biblical information.
We've never had more access to Scripture, theological content, and the application of the Christian worldview to every conceivable issue. We've never been more spiritually malnourished. Access does not equal engagement; even if it did, engaging doesn't necessarily lead to spiritual nourishment. Knowledge is insufficient. The word of God is not mere letters and paragraphs to be dissected, memorized, analyzed, or even applied. Sermons are not mere speeches to educate us into compliance with standards of holiness.
Peripheral Gospel
It's possible to bypass the supernatural aspects of Christianity in pursuit of a Christianity that works. The result is a cross-less, Christ-less, religious husk that delivers practical life tips and misses the Gospel mark. When we relegate the Gospel to the periphery, we trade the pearl of great price for snake oil. The thing about snake oil is that we can convince ourselves that it works and create a self-fulfilling prophecy. We can muster enough self-determination and willpower to make it effective for a time, but it isn't sustainable.
Meanwhile, the prophets of old and the word of God incarnate place the Gospel front and center. Jesus said as much to the Jewish religious leaders (John 5: 30-47), the disciples on the road to Emmaus (Luke 24:13-32), and in his appearance to the larger group of disciples shortly after (Luke 24:36-49). Far from snake oil, self-determination, or mere statements, Jesus' words rebuke, heal and save all who believe. His words bring life and equip others in his name. The words of God testify to Jesus and point us toward salvation like an enormous neon sign for the lost and wandering.
Hungry for Grace
What if the primary question isn't what can I do for God? What if the primary question is, what has God done for me in the person and work of his Son? That transformative reality drives us to love God and love our neighbor. Yet we bend down and try to drink the desert sand of our efforts and accomplishments as if they could quench our thirst.
Christ bids us to come to the table, eat his body, and drink his blood. All are welcome to come, partake, and join in the feast of redemption. This restored relationship with God through Christ's body and blood because of meritless, steadfast love is what can satisfy our hunger.
Our spiritual famine isn't a lack of resources, accessibility, information, or actionable steps. Our souls are hungry for grace. We need the body and blood of Christ. Too often, like tap dancing monkeys, we expend much effort on what gets us nowhere. We must only respond to Christ's invitation to the table. Come, partake, and be satisfied forever!
References
MacInnis, A. (2022, April 20). Report: 26 Million Americans Stopped Reading the Bible Regularly During COVID-19. News & Reporting. https://www.christianitytoday.com/news/2022/april/state-of-bible-reading-decline-report-26-million.html
Photo by Alexander Nachev on Unsplash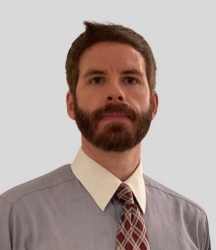 Latest posts by Chris Dunn
(see all)